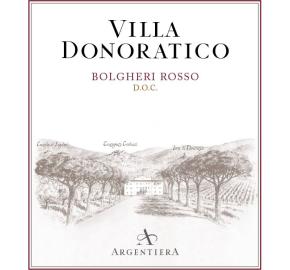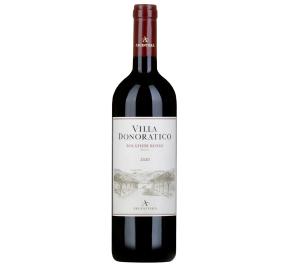 Tenuta Argentiera - Villa Donoratico 2020
Producer

Argentiera

Blend

15% Cabernet Franc
50% Cabernet Sauvignon
30% Merlot
5% Petit Verdot

Country

Italy

Region

Tuscany

Appellation

Bolgheri

UPC

8 032937 582108
Log in to view pricing and order online
Don't have an account? Register here
Item# 83545-20
Description
To describe a wine, it is necessary to decipher its origin – the landscape, the place, the environment from which it is born – in order to fully understand its nature. Villa Donoratico is a decidedly consistent and complex wine that never risks normality, demonstrating a character deeply linked to territory. Matured in oak, it is extraordinarily drinkable and faithful to its identity, year after year. A nose full of red fruit and a pleasant spice on the palate with notes reminiscent of licorice.
Tasting notes
Very pretty aromas of berries, mushrooms and fresh herbs follow through to a full body with round, fine tannins and plenty of blackberry and blackcurrant flavors. Long and intense. The texture is beautiful in this wine.
Estate
Tenuta Argentiera stands in a magnificent patch of land in the Maremma that blends countryside and sea, suspended between woods and Mediterranean scrub. The Argentiera estate covers 75 hectares of breathtakingly beautiful Tuscan coast, approximately 100 km southwest of Florence. In the prestigious DOC of Bolgheri, Argentiera is the estate closest to the sea and also highest in altitude, making the land and microclimate especially well-suited to growing incredible red grapes. The estate is considered among the most beautiful in Italy, with its spectacular view of the islands of the Tuscan archipelago.
Technical data
Altitude 150/180 m. asl
Vineyard exposure Southwest
Plant density 7000 Wine grapes/Ha
Yield per hectare 70 quintals Grapes/Ha
Composition Cabernet Sauvignon 50% Merlot 30% Cabernet Franc 15% Petit Verdot 5%
Vinification
Grapes are hand-picked and carefully selected from the estate's best vineyards, which are found at an altitude between 180 and 200 meters (590-600 feet). The grapes are released by gravity into tanks, each varietal vinified separately. Fermentation and maceration take place in stainless steel tanks for roughly 20-25 days at a controlled temperature never exceeding 28 C. The wine is then transferred to 225-liter French oak barrels to complete malolactic fermentation. Aging takes place over 12 months in barrel, followed by another 10 months in bottle before being released to the market.
Vintage
After an extremely mild and dry winter, the vine's shoots emerged about 10 days earlier than the historical norm, followed by an abrupt slowing of growth due to a week with very low temperatures. A total absence of rain continued throughout the spring, a favorable situation for health and vegetative development. Water stress began to be worrisome during the summer, given the total absence of rain.
On the most sensitive soils, the drought was feared to provoke blockage of the plants - a dire phenomenon - which was countered by careful monitoring and attention in the vineyards. Torrid temperatures continued through August, consistently soaring above 30°C, which led to an early harvest of various parcels of Merlot. Fortunately, September began with a rainfall of 30mm, followed by another of 40mm, ensure maturation for Cabernet Franc and Cabernet Sauvignon without excessive concentration of sugars. Harvest ended with a parcel of Cabernet Sauvignon next to the cellar on September 26th, 10 days ahead of 2016. The production was 15% less than average, but the quality is very good with wines that seem to have absorbed the summer heat without suffering imbalance.