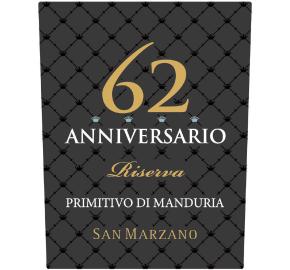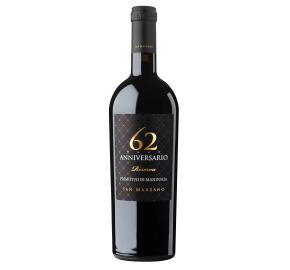 San Marzano - Anniversario 62 - Riserva 2017
Log in to view pricing and order online
Don't have an account? Register here
Item# 83532-17/6PK
Tasting notes
This delicious Primitivo is very intense and elegant ruby red color; broad and complex fruity fragrance with hints of plum, cherry jam and tobacco, slightly spicy. A full-bodied wine, smooth and rich in tannins, with a finish that offers notes of cocoa, coffee and vanilla. Best served with: Richly flavored first courses, red meat and game.
Description
In 1962, 19 winemakers, determined to demonstrate the high potential of wines from Salento, founded "Cantine San Marzano". A long time has passed since then, yet their old vines still produce rare and precious grapes. Our job is to pick and enhance them, with a pinch of experience and a handful of innovation. The result is this intense, elegant Primitivo that ages well. Area: Very old vineyards selected in the area of San Marzano (TA) and Sava (TA). Soil: Finely textured residual red soil with a calcareous subsoil, sparse rocky outcrops and intense presence of iron oxides. Farming type: Head-trained bush vines at least sixty years old (5,000 per hectare).
Grape harvest: Second half of September. Vinification: Very ripe grapes are harvested manually. The maceration takes place for 18 days on 80% of the grapes and for 25 days on 20%, with native yeasts selected in the vineyard. Fermentation takes place at a controlled temperature of 24-26 °C. Ageing: In French and American oak barriques for 18 months.
Estate
San Marzano is a small village in the centre of the Primitivo di Manduria DOC region, a strip of land kissed by the two seas of the Salento: the Ionian and the Adriatic. In 1962 the DOC appellation did not yet exist, and the Primitivo di Manduria was far from becoming a cult wine for wine lovers. Even so, 19 winemakers came together to follow a dream and founded Cantine San Marzano.