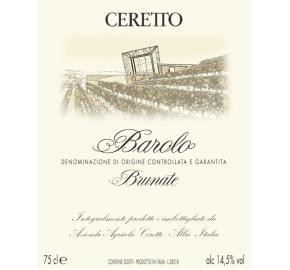 Ceretto - Barolo - Brunate 2012
Log in to view pricing and order online
Don't have an account? Register here
Item# 83521A-12/1PK
Tasting notes
Aromas of oak, dark spice, espresso, tobacco, dark berry and a floral note emerge in the glass. On the structured palate, assertive, close-grained tannins frame cranberry, red cherry, clove and white pepper. Pair this wine with Deli meats, Red meat, White meat, Poultry, Mushroom, Cheese or tagliatelles fraîches aux truffes, Filet de boeuf sauces aux morilles, Entrecôtes aux herbes recipes.
Description
It is one of the most representative vineyards of the Commune of La Morra and has always been considered one of points of reference for the entire appellation. It is an inter-commune vineyard, the plot (good size, comprising a total of 28 hectares) is shared, from an administrative point of view, between the towns of Barolo and La Morra. As regards the soil profile, the two sides of the two Communes are not particularly different, and even the exposure (South / Southeast) is substantially homogeneous; the only variable the altitude: in fact, it ranges from 230 meters above sea level to more than 400 meters. The soils, from the Tortonian period, feature marle of S. Agata Fossils, with a good presence of sand, particularly in the highest part of the hill. The Ceretto family owns, in Brunate, just over five and a half hectares.
Estate
For three generations members of the Ceretto family have transformed the fruit of the Langhe's vineyards into wines that speak of the regions identity. The famed Italian gastronome and intellectual Luigi Veronelli wrote, "The land, the land, the land, the land, always, the land." This philosophy is central to the Ceretto family. Reverence for this land has passed from Riccardo, who blended fruit from the region's best vineyards, to Bruno and Marcello, who purchased Langhe vineyards and began bottling single crus, and finally to Alessandro, who is taking the winery into the 21st century by using natural methods to foster vines that are stronger, healthier, and more in balance with their environment. The Ceretto family has always been committed to producing the most expressive and authentic wines their land can yield.
Vineyard
The Langhe hills of Piedmont constitute that area of northern Italy where the wide and flat Pò river valley suddenly disappears and gives way on all sides to hulking and precipitous slopes. The Langhe hills are more than hills. They are ancient and rugged earth. Their narrow peaks are topped by castles, and they are thick to the horizon with grapevines. The Langhe hills are home to a small group of farmers and winemakers who, together, have succeeded in creating some of the planet's finest expressions of place.
Technical data
Name: Barolo DOCG
Common: La Morra
Variety: 100% Nebbiolo
Hectares: 5.60 ha
First year of production: 1978