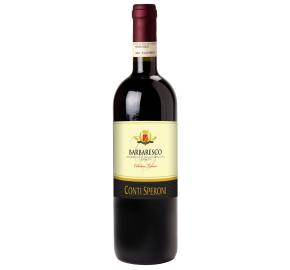 Conti Speroni - Barbaresco 2012
Producer

Conti Speroni

Blend

100% Nebbiolo

Country

Italy

Region

Piemonte

Appellation

Barbaresco

UPC

0 15643 24642 5
Log in to view pricing and order online
Don't have an account? Register here
Item# 82095-12
Characteristics
Ruby red color with gamet hints. Full bodied, with a slightly tannic finish
Estate
The Neirano cellars belong to the Sperone family, which is being engaged in the wine production for 4 generatiorn. Paolo and Antonio lead the company at the moment, with the help of Antonio's daughter and sou: Francesca and Andrea. Tenute Neirauo is located in Mouferrato, Piedmont With 30 hectares of owned vineyards, Neirauo has ahvays developed the production and sale of a very high quality line of Piedmont wines, with extreme care in grapes selectio1 - vinification method~ and bottling teduiology. Today, the Speroue-Neirano group has become one of the major italian wine producers, as evidenced in the following international awards: Decanter wine awards, IWC, IWSC, Mundus Vini. Neirauo is proud to have an intemationally certified produc.tion system (IFS).
Food pairing
Best enjoyed with meats and risotto
Refinement
2 years in large oak barrels. In bottles for the final six mouths.
Vinification
Classic system with remoutage of the mu~t above the skins during the fermentation