Cognac Tesseron - X.O Ovation - Lot 90
NV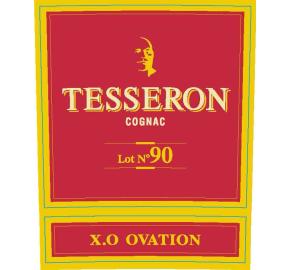 Activate your account to purchase online, view your detailed history, get tasting notes from over 10 major publications, request our catalogs/POS, and much more!

IMPORTANT NOTE:
Monsieur Touton Selection Ltd. is a wine and spirits distributor, serving industry professionals with valid liquor licenses only. If you do not qualify as such, ask your local liquor store/restaurant to contact us! This item may or may not be available in selected states.
This website is for informational purposes only.
Aging
All of Tesseron's cognacs are aged exclusively in Limousin oak, a tough wood which has a fatter, looser grain than that of the more common Troncais oak, thus giving more oxygen and finer tannins, as well as being better adapted to long-term maturation. The house also makes a point of aging all of its cognacs in humid rather than dry cellars, resulting in a more rounded flavor profile.
Cognac
The cellars at Tesseron date back to the 13th century and were once part of a crypt of a local church. Today they house one of the largest collections of old cognacs in demijohns in all of Cognac, in what is called the Paradis cellar at each Cognac house. Grapes are virtually all sourced from top two Cognac districts: Grande Champagne and Petite Champagne.
Estate
Tesseron Cognac is a new luxury cognac brand owned by the Tesseron family, which for more than a century has provided its old, rare stocks to the larger cognac houses. The family still holds one of the largest collections of aged cognac reserves in the world and launched their own brand in 2003, releasing cognacs only XO (which stands for extra old) and above in age. Made only in miniscule quantities, their cognacs are incredibly rare and highly desirable. The Tesseron Cognac house is located in Chateauneuf-sur-Charente and was founded by Abel Tesseron in 1905. Since then, the family business has since been handed down through four generations, and is now run by Alfred Tesseron, also owner of the highly regarded Chateau Pontet-Canet in Bordeaux
Lot 90
The youngest of Tesseron's Cognacs, just over 10 years old, Lot 90 has a vivacious freshness and purity. It displays an especially attractive combination of vigor and complexity, which several ice cubes bring out perfectly - a first encounter with a great cognac. The nose opens with fresh pear and quince notes, giving way to herbaceous elements, dried fruits and nuts, with intriguing hints of almond. Long aging in oak barrels adds richness and complexity. 100% Ugni Blanc, from Grand Champagne, Petite Champagne and Fins Bois. The ideal aperitif.