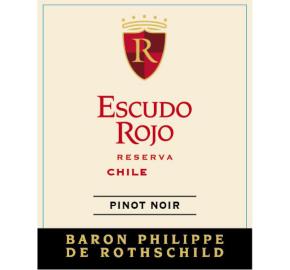 Escudo Rojo - Pinot Noir Reserva 2020
Log in to view pricing and order online
Don't have an account? Register here
Item# 99183-20
Description
Escudo Rojo Reserva Pinot Noir is sourced from a selection of the best parcels in the Casablanca Valley. Bringing its Burgundy style, Baron Philippe de Rothschild has created an elegant and highly refined wine.
Vineyard
This wine comes from the Valle de Casablanca, situated near the Pacific Coast 80 km north west of Santiago. The ocean influence is very strong, helping to regulate the temperature. Baron Philippe de Rothschild Maipo Chile's winemakers have chosen the Valle de Casablanca vineyards for their mild climate, which allows the grapes to ripen slowly, and for their soil: silty sand, which favors the refinement and freshness of the fruit, and granitic soil closer to the coastal mountains, which brings elegance. The wines are fresh and mineral, while keeping a certain power and a remarkable balance between alcohol and acidity.
Aging
To keep all the wine's freshness and refinement, it is matured in oak for 6 to 8 months before bottling. 10% new oak and 90% 1-2 year old barrels are used.
Estate
Escudo Rojo is an iconic Chilean brand created by Baron Philippe de Rothschild to produce the best wines in each category and market them worldwide. The wines strike a harmonious balance between freshness, fruit, oak, fullness on the palate and ageing potential. In addition to the flagship blended wine, the Escudo Rojo range includes five varietal wines: Carmenere, Syrah, Cabernet Sauvignon, Chardonnay and Sauvignon Blanc. All the wines in the range express a distinctive character, reflecting the expression of its terroir.
Tasting notes
The nose is very complex and fresh, with intense, forward fruit on cherry and raspberry mingled with gentle toasted almond notes. The wine has a very good attack, on elegant and succulent tannins. Fruit flavors emerge on the mid-palate, especially cherry, while the elegant finish combines the fullness of fresh fruit with the refinement of the Casablanca terroir.
Vinification
The grapes are hand-picked to preserve all their freshness and aromatic potential.