California Finally Gets a Normal Vintage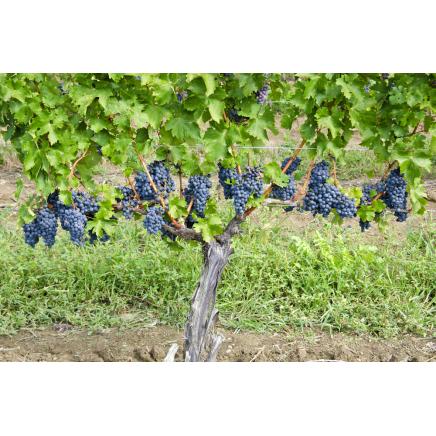 California Finally Gets a Normal Vintage
After suffering drought, fire and pestilence, Northern California is finally enjoying a drama-free harvest – and growers are delighted.
article originally featured in Wine-Searcher Sep 16th 2021
Here's something you haven't read from Northern California in too long: this year's wine harvest looks so far, so good.
While Mother Nature could intervene at any moment, early reports are that the severe drought is having a predictable (and not bad) effect: the grapes themselves are smaller, which generally means smaller crops but concentrated, high-quality wines. Moreover, the growing season for grapes started early this year – also drought-related – so the harvest started sooner and is moving faster than usual. That's important because grapes already in the wineries are grapes safely removed from the continuing threat of wildfires in the next month. White wines in Napa and Sonoma counties are nearly finished, and red wines are steadily coming in. It's still too early to say anything about the quality of Napa Valley Cabernet, and for some consumers that is the wine that will define California's vintage. But if you're a fan of California Pinot Noir, the news is already good. So far, smoke does not appear to be the widespread issue that it was in 2020. El Dorado County has been troubled by wildfire and Lake and Mendocino counties have had some fire issues, but so far Napa and Sonoma counties have had relatively clear skies.
More importantly, Northern California has had mostly mild weather all summer – a big contrast to brutal heatwaves in much of the country. There have been no extreme heat spikes, and while having almost no rain all summer is bad for most crops, it's different for wine. "This harvest is a pleasant surprise," said Monste Reece, winemaker at Pedroncelli Winery in Geyserville. "We are having good weather so far with just a few hot days but not as intense as in past harvests. The grapes are maturing at their own pace without rushing. As for now, middle of September, we have all our Zinfandel picked, ready to bring the Chardonnay this week and just waiting for the Cabernet Sauvignon to get ready. The aromatics this year are fantastic. I'm very much looking forward to taste the final wines from this vintage."
Reece was not the only winemaker to mention how aromatic this year's grapes are. Matt Reid, winemaker at Benessere Vineyard in St Helena, said his yields are far below average, with some varieties down as much as 50 percent. But he likes what he's seeing. "What we have brought in so far is amazing," Reid said. "The aromas around the crush pad are heavenly. Fermentations are proceeding easily and we are seeing great color and extraction. These baby wines have a bright future ahead of them." Mari Jones, president of Emeritus Vineyards in Sebastopol, agreed, saying: "In one word, quality is amazing. The winery smells incredible, and doing punch-downs and sampling tanks is such a treat. Because the berries are so small, the wines are very dark and packed with intense aromas and flavors. We could not be more ecstatic about what we have in the cellar, and we are positively giddy to see how the wines develop."
Size matters
Some winemakers mentioned difficulty arranging harvest crews. Northern California has long had a chronic farmworker shortage. Last year, with restaurants closed, more grape pickers than usual were available, but this year it's a scramble again for which winemakers must plan ahead. "One big item for this harvest that is playing out throughout the North Coast is the availability of pickers for the harvest crews," said Cary Gott, winemaker for Bricoleur Vineyard in Windsor. "We sometimes cannot get the grapes picked when we want but we know how to build that delay in our planning. But all in all the wineries and the cellar workers are so happy to have a 'regular' harvest and winemaking at hand." Crop size is definitely an issue.
"Quantities seem low this year," said Aron Weinkauf, winemaker and vineyard manager for Spottswoode Estate Vineyard & Winery in St Helena. "They are looking like they are 25 percent lower than last year, and in many cases last year was already below average. This year, though, if you ran out of water, those yields could be even lower. I've seen some dry-farmed vineyards and vineyards without water that struggled to produce 0.5 tons per acre. Needless to say, yields should be lower across the board, but highly variable depending on water availability and irrigation practices." Some winemakers – especially those who make Pinot Noir, Chardonnay and Sauvignon Blanc, because their grapes are mostly harvested – think 2021 will come to be regarded as a great vintage. "As with most drought years, quality is just stunning," said Bacigalupi Vineyards winemaker Ashley Herzberg. "Acidity is amazing because we had a semi-mild summer here; flavors are intense and concentrated because the yield is so far down. We have been so impressed with quality overall and think this will be a vintage for the books for sure." As for the Cabernet development? Well, so far, so good, and cross your fingers.
"We are seeing all of our Cabernet Sauvignon under 1 gram per berry in size, which is usually just unique to our steep hillside sites or heavy gravel areas," said Jesse Katz, founder/winemaker of Aperture Cellars in Healdsburg. "This is going to give us a significant amount of skin to juice ratio in tank and should create wines with incredible concentration, structure and layers. The acidity is also staying nice and high with very low pHs for the most part. We could be set up for a very special vintage, but I have a feeling people don't realize how far off the crop is yet, and in areas that are out of water or lost water rights, this could be even more extreme. "It will be interesting to see how this affects the next vintage as well as in many sites that are under the most severe stress. The canes and buds that will be laid down for next season could be very small and may be not as fruitful or may not have the ability to hold as much fruit next year. Hopefully we get some rain this winter."