Cognac, Bordeaux and Beyond: How Irish Immigrants Changed the Wine and Spirits Industry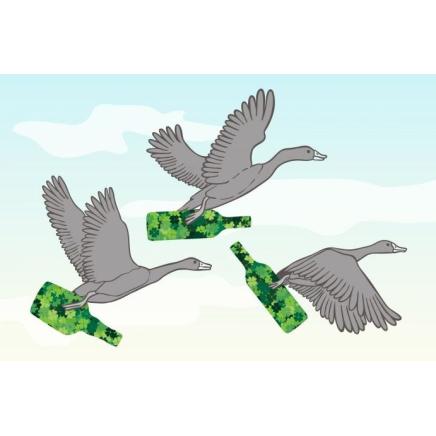 Cognac, Bordeaux and Beyond: How Irish Immigrants Changed the Wine and Spirits Industry
Ireland is known for its beer and whiskey, but Irish soldiers, expats, refugees and deportees have been major players in the world's wine scene far beyond the Emerald Shores.
article originally featured in Wine Enthusiast Mar 17th 2021
The flight of the Irish and finding a place in Bordeaux
The country's modern winemaking lineage started with the Williamite-Jacobite War, fought in Ireland from 1688–1691. Irish Catholics battled alongside French King Louis XIV to put Britain's deposed Catholic King James II back on the throne. Irish Catholics hoped to end harsh religious persecution from Britain. Irish Protestants joined James' usurper, William of Orange, and allies from the Netherlands and Denmark to keep England, Scotland and Ireland in Protestant control. It came to a head at the 1690 Battle of the Boyne, where the Catholic coalition was defeated. Defeated soldiers and their families fled to continental Europe and became known as the Wild Geese, leading to a century of migration for Irish political dissidents who sought to escape Britain's harsh rule. They joined the armies of France and Spain, and then shipping companies across the continent. Their success led other Irish families, displaced by Britain's penalties, to turn toward the French shipping industry. Many of Ireland's educated and well-connected "Wild Geese" merchant families ended up in Bordeaux. They were first drawn to the booming wine trade, then to production itself. Two Irish houses were listed on the prestigious 1855 classification crus: Château Léoville Barton and Château Lynch-Bages. Thomas Lynch, whose father immigrated from Galway, inherited the property with his wife Elizabeth in 1749. The family eventually sold it, but their name remains. The Bartons have kept their property. Lilian Barton Sartorius is the current owner of the Château Léoville Barton along with Château Langoa Barton and Château Mauvesin Barton. According to Sartorius, the family's journey to producing wine in Bordeaux started with Irish-born Thomas Barton shipping "unmentionable wool in one direction and wine in the other." By 1722, Barton was building his business in France, starting the dynasty that would own the two historic chateaus by 1826. Nine generations later, she says, they still have their Irish passports.
The Irish family that conquered Cognac
In modern times, Hennessy is a global powerhouse, selling millions of cases of Cognac worldwide. But in 1765, it was merely the name of the latest Cognac house opened by an Irish expat soldier in France. Richard Hennessy grew up in Ireland, which was heavily restricted by the Penal Laws of 1695. As a Catholic, the statutes threatened to strip his family of lands and citizenship by Britain. Hennessey reportedly left Ireland at age 19 and joined French King Louis XV's army as a soldier for hire. He served 12 years, which earned him French citizenship. Hennessy took his earnings and tried, at first unsuccessfully, to invest in the Cognac trade. He studied business with an uncle in Belgium and returned to Cognac in 1765. This time, he gained traction. Hennessy produced and shipped Cognac to London and Ireland, and he also supplied customers in the French royal court. But the house's major breakthrough came during the French Revolution. As battle lines divided France, Hennessy maintained neutrality and traded with both the revolutionaries and London. It even opened up trading with an emerging market, the newly independent United States. In 1813, Hennessy's son, James, took over Jas Hennessy & Co., the brand's official name. He would cement the brand globally. He made special Cognacs for the Prince of Wales, the Empress of Russia and added shipping to India. Hennessy now accounts for half of the world's Cognac supply.
Making a new home, and wine, on the other side of the world
Clonakilla. O'Shea. McGuigan. Toole. Fermoy. Barry. McLaren Vale. Clare Valley. Irish names abound in both the brands and regions of Australian wine. Many of Australia's Irish immigrants came to the country as indentured workers, and Britain's First Fleet of convicts famously set sail for Australia in 1787, where it arrived eight months later. Not all transported to Australia over the next 70 years were Irish. And not all Irish immigrants came against their will. Some sought political and religious freedom, or an escape from persecution and poverty. Additionally, from 1848–1851, girls orphaned by the Irish Famine were sent to Australia as servants. It's no surprise that Irish descendants like Owen McGuigan worked the land and staked their claim in the growing winemaking industry. McGuigan started to tend one of the Hunter Valley's vineyards in 1880 to supplement his dairy business. Now the family-owned McGuigan Winery is the four-time winner of the International Wine and Spirits Competition's International Winemaker of the Year. Other brands started by Irish immigrants add to the success of Australian wines. Jim Barry's The Armagh Shiraz, for example, tops 90 points consistently from Wine Enthusiast.
Surviving the Potato Famine and founding California's wine industry
Irish immigrants came to the American colonies long before the nation's birth. They fought in disproportionate numbers in the Revolutionary War. They made up almost half of the Continental Army, which led one British official to complain that the Irish language was as common amongst the ranks as English. After the victory, they were among the settlers in the country's continual westward expansion. But the largest wave of Irish immigration started in the late 1840s, as a famine devastated Ireland. The country's staple crop, the potato, was annihilated by disease, and British aid to starving tenant farmers was woefully inadequate. An estimated one million people died, and around one million left Ireland, most never to return. Many Irish youths went abroad to seek opportunity and prosperity. One young man started the longest running winery in the U.S., and was among the first to bring Bordeaux-style wines to California's valleys. Born on St. Patrick's Day in the middle of the famine, James Concannon reportedly departed Ireland's famous Aran Islands in 1865 at age 18 with a single golden guinea. The native Irish speaker learned English and became a salesman that traveled from Canada to Mexico before he moved his family to California. Family stories claim his wife and a parish priest convinced him to settle down and produce sacramental wine, a choice that would keep the operation open through Prohibition decades later. Others say he saw the Livermore Valley's Bordeaux potential. Regardless, with Bordeaux's First Growth cuttings, he started Concannon Vineyard in 1883 and laid claim as "a Founding Family of the California Wine Industry." An estimated 80% of California Cabernet Sauvignon comes from Concannon clones. His is one of many successful global legacies of the original, 17th-century Irish "Wild Geese."