For Value Wines, Bordeaux Is France's Best-Kept Secret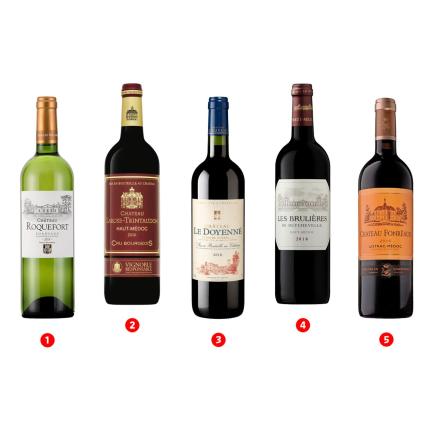 For Value Wines, Bordeaux Is France's Best-Kept Secret
When wine drinkers seek budget bottles, they rarely think of Bordeaux. Given a string of excellent recent vintages, our wine columnist went looking among some of the region's lesser-known appellations and turned up some excellent values.
#2. 2016 Château Larose-Trintaudon Cru Bourgeois Haut-Médoc, $20
Made at one of the largest estates in the Haut-Médoc, this widely distributed value Bordeaux red is an accessible Cab-Merlot blend with a touch of Petit Verdot, marked by soft tannins and bright red fruit.
https://www.mtouton.com/products/france/bordeaux/medoc/haut-medoc/11027-2016/chateau-larose-trintaudon
BORDEAUX IS DEFINED by dichotomies: World-famous and much misunderstood, the region is synonymous with elite châteaux—yet the majority of its wineries are smaller affairs and virtual unknowns. The latter group produces some good bottles at value prices, but wine shoppers tend to overlook them because they don't think in terms of value when it comes to Bordeaux...
But recently I decided to take another look. After all, the quality of Bordeaux wines has never been higher, and there have never been more good vintages (2015, 2016, 2018) on the shelves at once. Of the 17 Bordeaux wines I purchased, I'd rate 14 as good to very good. Only one was priced (slightly) above my self-imposed $25 limit.
Two wines in my tasting are imported by Guillaume Touton, a Bordeaux native who has heralded the region's wines for nearly four decades via his New York-based import/distribution company, Monsieur Touton Selection, Ltd. He's noted an upsurge in quality over the past couple decades. "With all the advancements in technology and winemaking, it's almost impossible to make a mediocre wine [in Bordeaux]," he said. And an increase in quality hasn't necessarily meant an increase in prices. Many small estates imported and distributed by Mr. Touton sell their wines for the same prices they were 20 years ago. So why aren't more wine drinkers catching on?
There are well over 5,000 châteaux in Bordeaux, and outside the famous names and well-known commercial brands, they can be hard to figure out. The names of the places where they're produced—Côtes de Castillon, Canon-Fronsac, Côtes de Bourg, Blaye-Côtes de Bordeaux—are unfamiliar to most Americans. No wonder quite a few of the cheap Bordeaux I found had stickers with point scores and wine-competition gold medals on the bottles: Sellers know they need some marketing.
Most Bordeaux are blends of several grapes. Some châteaux list the grape composition on their bottles' back label, a boon to wine drinkers unfamiliar with the different subregions and their dominant grapes. For instance, in the Médoc, Cabernet is the most important grape of most blends, while in Pomerol and Saint-Émilion, both Merlot and Cabernet Franc are key grapes. In Entre-Deux-Mers, home to dry whites, Sauvignon Blanc and Semillon reign supreme. Just this year, in response to concerns about climate change, the Bordeaux Wine Council approved yet more varieties to be planted, including hardy Portuguese grapes like Albariño and Touriga Nacional.
A further challenge to seekers of affordable Bordeaux: the region's multiple wine classification systems. The 1855 Bordeaux Classification—ranking the top red wines of Médoc, first through fifth growth—is well known because it includes famous names like Château Latour and Château Margaux. But there are many less-famous, more-recent Bordeaux classifications, including the recent reclassification of Médoc wines as Cru Bourgeois, Cru Bourgeois Exceptionnel and Cru Bourgeois Supérieur. But how are wine drinkers supposed to know if a wine rated Exceptionnel is better than one labeled Supérieur—or vice versa? It's challenging enough for wine professionals, let alone regular drinkers, to keep track of such stuff.
That's why wine merchants and sommeliers are key to selling Bordeaux. They can explain how a wine from the Listrac-Médoc appellation compares to one from Côtes de Castillon. (More Cabernet in the former, more Merlot in the latter.) A shop where the management has invested in a wide range of Bordeaux, from $12 to $500 bottles, is an ideal place to start...