M. Touton Selection Eyes $200 Million In Revenue With Expanding Wholesale Presence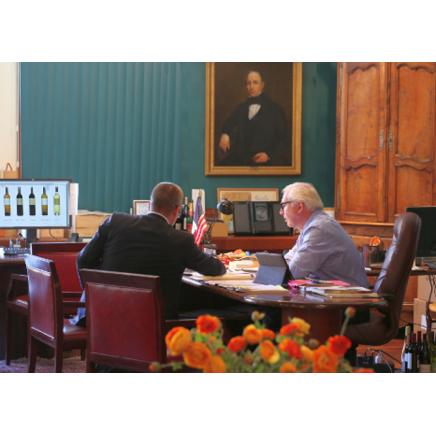 M. Touton Selection Eyes $200 Million In Revenue With Expanding Wholesale Presence
article originally featured in Shanken News Daily Feb 11th 2019
February 4, 2019
Guillaume Touton founded his New York-based import and wholesale company Monsieur Touton Selection 36 years ago, and has not let up since. M. Touton sells approximately 1.5 million cases, has revenues approaching $200 million, and is growing at 8%-12% annually.
With a distribution presence in 10 states weighted toward the Northeast and Mid-Atlantic, Touton moved into Florida a few years ago. The Sunshine State is now one of its biggest markets, and the company plans to enter North Carolina this year. Of M. Touton's total of 1.5 million cases, approximately two-thirds are sold across the company's East Coast footprint.
Guillaume Touton is bullish on his company's position as a mid-sized wholesaler. "In every state, it's almost the exact same situation," he tells SND. "You now have three or four big distributors, and they're getting bigger every day. As a result, many brands selling 10,000-50,000 cases a year are looking for other options. If they want to leave, where do you think they will go? Obviously not to a small wholesaler with five or 10 salespeople. The bigger the big distributors are, the better for us in the middle."
While Touton hails from Bordeaux, which plays an important role in his portfolio, Italian wine is also among the mainstays of the business, accounting for 400,000 cases a year. Italian brands including Tommasi, Frescobaldi, and Bruno Giacosa are all strong on-premise sellers, he notes.
From France, Louis Latour, Guigal, and Champagne labels Bollinger and Pommery are performing especially well. In the Bordeaux category, the petits chateaux segment of wines at the $10-$20 tier is very strong right now, Touton says, but it's "almost impossible" to persuade customers to buy wines from the top Bordeaux chateaux except in the best vintages."
Touton sees current business trends as generally positive, but he believes the rose category "is reaching a saturation point," with supply exceeding demand. On the other hand, Touton continues to be optimistic about the growth potential of sparkling wines, and he sees some excellent values emerging from underperforming countries like Australia and South Africa.
As for adding new brands to the portfolio, Touton says that with more than 5,000 labels from a dozen countries already in his book, he's cut down on new additions compared to several years ago. That said, he notes that because trends in the U.S. market are "constantly on the move," that means that M. Touton Selection must be as well.