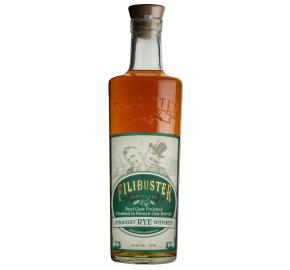 Filibuster - Straight Rye Whiskey - Dual Cask Finished NV
Log in to view pricing and order online
Don't have an account? Register here
Item# 72439-NV/6PK
Tasting notes
A Virginia rye from a craft producer, this whiskey has tons of character. Notes from the French oak wine cask finishing process hit you first, but are quickly followed by dill and black pepper, ensuring you know this is a rye whiskey you're drinking. There's great concentration of flavor, with baking spices building on the notes from the nose. A weighty texture coats the palate before a lingering rye-spiced finish. Excellent stuff!
History
Filibuster Distillery is a woman and minority owned business with the soul of a small family enterprise. Born in D.C. and now located in Virginia, a true American pioneer. The business began on the corner of 9th, not far from the Capitol, so Filibuster was a natural name choice. They wanted to lampoon the intensity of the political culture in D.C. Maybe if everyone just talked it out over a few drinks, things would go more smoothly?
Description
The advantages of the "Dual Cask" aging method are really noticeable with Rye. We utilize the soft, post-fermentation components of white wine to impart aroma and texture. When these 2-3 year old French oak barrels are emptied, and our Rye goes in for its "Dual Cask" aging period. The result is a rich, round, velvety-smooth Rye Whiskey, with none of the harsh "grassy" character that sometimes can detract from the enjoyment of Rye.
The Filibuster Dual Cask Rye mash bill is composed of 95% rye and 5% malted barley. After initial maturation in new charred American oak casks, two-to-three-year-old ex-chardonnay French oak barrels are used for the final aging process. Filibuster Dual Cask Rye is bottled at 90 proof.