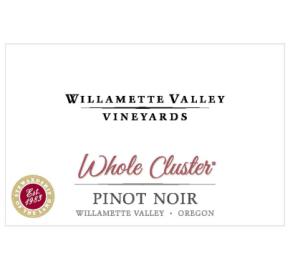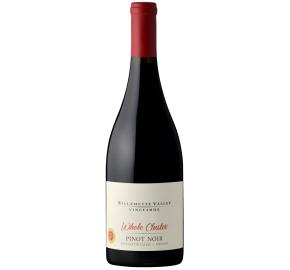 Willamette Valley Vineyards - Pinot Noir - Whole Cluster 2018
Log in to view pricing and order online
Don't have an account? Register here
Item# 72324-18
Description
The light-medium body's captivating smoothness is a delicious complement to the fruitiness. No oak influence; likely fermented in stainless steel to push fruit forward with no oak finishing. Full malolactic fermentation is likely because of the superb, plush smoothness. In whole cluster winemaking—often used by quality Pinot Noir and Syrah winemakers—a percentage of the grapes are not separated from the stems (de-stemmed) and the entire grape cluster goes into the fermentation tank. Whole cluster encourages carbonic maceration, where fermentation begins inside the grape before the crush (think Beaujolais). That evokes vivid fruit and improves mouthfeel. It certainly works that way in this wine.
Food pairing
Food Pairing: Our most versatile Pinot Noir for food pairing, this wine lends itself well to sweet and tangy BBQ dishes, sushi, spicy Asian and Indian dishes, wood-fired flatbreads, gourmet burgers and salmon. Try serving slightly chilled on a warm summer evening.
Tasting notes
As refreshing as liquid fruit salad in a glass, this wine is ruby in color and opens with aromas of black cherry, raspberry, blackberry and caramel. A fruit-forward and sweet entry leads to flavors that mirror aromas with the addition of cranberry, dark chocolate and baking spices that flow into a juicy mid-palate and soft, round finish accented by balancing acidity.
Estate
One of the longest serving estates in Oregon, Willamette Valley Vineyards was founded in 1983 by Oregon wine pioneer, Jim Bernau. Jim cleared away an old pioneer plum orchard in the Salem Hills to start his first vineyard. Over time Willamette Valley Vineyards has considerably increased their estate vineyards. Willamette Valley Vineyards sources all of its Pinot Noir from their nearly 500 acres of estate vineyards. Since the winery founding stewardship of the land has been a key principle in our winemaking. They practice environmentally sustainable farming and are part of the founding of the Low Input Viticulture and Enology (LIVE) program.