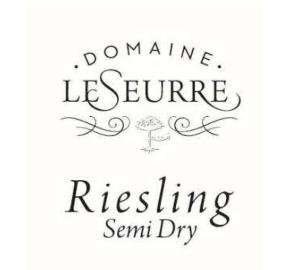 Domaine Le Seurre - Semi Dry Riesling 2020
Log in to view pricing and order online
Don't have an account? Register here
Item# 72235-20
Tasting notes
A streak of waxy honeycomb seems to glaze flavors of pressed apple and pear on the palate of this savory, but honey-kissed wine. Light in body, it's zesty and spry with a clean, cutting finish. Very food friendly!
Estate
Finger Lakes wine with a French accent. Domaine LeSeurre focuses on classic, dry wines made from distinct terroirs along Keuka Lake in upper state New York. Sébastien and Céline LeSeurre are a French husband and wife winemaking team. They craft their wines from old vines and choose grapes grown on different kinds of soil to add depth & complexity to the final blend. It is like comparing an orchestra to a single musician! "This is a winery to watch." -James Molesworth, Wine Spectator
Food pairing
Pairs well with subtly spicy dishes, and also complements cured ham and charcuterie. Enjoy with fresh cut fruit.
Vineyard
100% Riesling, 100% Finger Lakes terroir selection. Planted in 2002 and sourced from a vineyard site that is predominantly composed of clay soil (selected for richness and fruit). In 2015, the grapes hung on the vines 11 days longer than for the Riesling dry style.
Vinification
Owners/Winemaking Team: Celine & Sebastien LeSeurre
The Riesling juice is all fermented in stainless tanks. While on its lees the wine is hand stirred (bâtonnage sur lies) once per month, for 10 months. This process develops an additional complexity of flavors and aromas. No sulfur addition before fermentation (preoxydation of the juice). Fermentation is done at cool temperatures (41-57°F), and this cold temperature helps the yeast to ferment the sugar slowly (fermentation finished in June 2016). This helps the yeast to produce fine aromas with some fine lees The wine keeps a good carbon dioxide level because of the long fermentation so the first addition of sulfite happens at the end of fermentation.