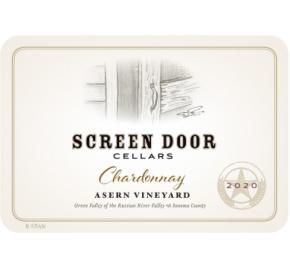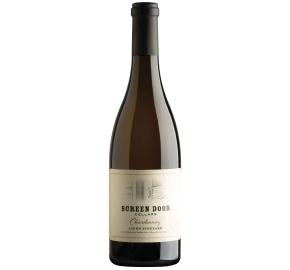 Screen Door Cellars - Chardonnay 2020
Log in to view pricing and order online
Don't have an account? Register here
Item# 72577-20
Tasting notes
The Screen Door Cellars Chardonnay from the Green Valley in the Russian River opens up with an explosion for aroma. A bright, vibrant, yellow color in the glass precludes aromas of lemon curd, apricot, crème brûlée, wet stone, lime zest and flint. Half of this wine has been concrete egg fermented and the other half fermented in French oak barrels, creating a mouthfeel and flavor that is both rich and full. A smooth entry leads to bright citrus acidity with a balanced creamy long finish. This is a complex and complete Chardonnay that will pair perfectly with good company on your front porch (and with most any meal).
Estate
Screen Door Cellars is the result of the loving marriage between the bountiful promise of Northern California's finest terrain and climate, with the dedication, pride and commitment that embodies the Texas spirit. Winemakers Bobby and Shannon Donnell produce small amounts of their classic Russian River Valley wine beginning with the 2012 vintage. Bobby had moved from Texas and Shannon was studying viticulture at UC Davis when the couple met. After she graduated, they moved to the Napa Valley where Bobby took a harvest cellar position at St. Clement Vineyards and Shannon worked crush at Cakebread Cellars. They started a family and moved back to Shannon's home town of Sebastopol. In 2012 they began to realize their dream of starting their own wine brand. That year, Screen Door Cellars was launched, and a humble 100 cases were produced. Although 2012 was the first vintage, the idea of Screen Door came many years earlier, and was born from conversations over wine with Bobby's lifelong friend, David Raymond. The early sketches for what is now the Screen Door label came to life in the mid-2000s and moved with the Donnell's throughout their careers, house moves and growth of their family.
The ASERN Vineyard is owned by Shannon Donnell's parents. Purchased in 2013, the vineyard's ten acres of Chardonnay is fondly named after all the grandkids (Alex, Savannah, Emma, Robert and Norah). Donnell produces about three tons of Spring Mountain clone Chardonnay from this site that sits on top of a hill overlooking the coast and the Russian River.
The label evokes what Shannon and Bobby wanted to develop with their wines – a casual, open door attitude and the experience of good wine shared with friends. Their winemaking philosophy is simple, source grapes from great regional growers in the Russian River Valley where the soil and coastal location support the production of stellar Pinot Noir and Chardonnay. And, produce wines that match the style of the region's terroir.
Vineyard
Planted in 1991 with the Spring Mountain Clone of Chardonnay, the ASERN Vineyard is located in the Green Valley of the Russian River Valley. Known for the Goldridge Sandy Loam soil, it is an ideal location for Chardonnay with later ripening fruit and concentrated flavors that lead to bright, clean acids. ASERN Vineyards is a representation of our commitment to the Russian River Valley and for the generations to come.