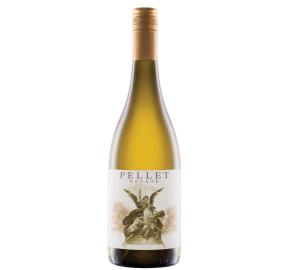 Pellet Estate - Un-Oaked Chardonnay 2018
Log in to view pricing and order online
Don't have an account? Register here
Item# 72314-18
Description
This classic unoaked Chardonnay is produced from the Sunchase Vineyard, perched high above the fog at an elevation of between 900-1,400', where the Petaluma Wind Gap collides with Sonoma Mountain just over the Napa County border. The cool ocean breezes & moderate sunshine, paired with fractured rocky clay soil consistently produces distinguished Chardonnay. This wine is full of fruit, fresh and bright with nice layers of complexity. About 128 cases produced.
Tasting notes
Crisp, crystal clear with lemon yellow hues. Expressive aromas over flow the glass with pears, pineapple and apple blossom. On the palate this wine displays a silky texture that glides across the mouth seamlessly intertwining flavors of pineapple, honeydew melon and early season nectarines with more savory notes of Gravalstien apples and cut hay. There is a creamy almost almond like note underlying the high fruit flavors, providing depth and complexity on the finish.
Estate
Pellet Estate is a rare, authentically grown, and classically made wine. The Estate is a spectacular vineyard site in the small town of St. Helena, with a rich history dating back to 1859. Henry Pellet, one of the founding pioneers of Napa Valley winemaking, first planted this site with a vision of producing wines that would be among the best in the world. In 2005, owner Greg Krill and his wife Robin purchased 5 acres of this original historic property to found Pellet Estate . His first order of business was to pull out the existing vineyard and replant according modern practices of trellising, row orientation and vineyard management techniques. They then assembled a dream team to perfect every aspect including winemaker Tom Rinaldi, an icon in Napa Valley who was the founding winemaker for Duckhorn, Provenance & Hewitt to name a few.
Vineyard
Pellet Estate produces Chardonnay from the Sunchase Vineyard, and Cabernet Sauvignon from grapes grown exclusively in our historic Pellet Vineyard, a site that has been producing grapes for over 150 years. The Pellet Vineyard's origin begins in 1859, when pioneer winemaker Henry Alphonse Pellet was hired by John Patchett to make wine from his grapes near the city of Napa. Charles Krug had also begun to make wine in 1858, and Henry Pellet became the second commercial wine maker in Napa County. Formally established in 1863, the Pellet Vineyard was among the first vineyards in Napa Valley intended for producing grapes for wine for consumers at large, rather than family & friends. In 1863, Pellet purchased 45 acres of land south of the town of St. Helena next to his neighbor, Dr. G.B. Crane, and planted 38 acres in vineyards. Our label depicts the dawn of the age of electrification, the era when Pellet illuminated the path towards modern viticultural and winemaking methodology, and with it, the high quality and age-worthy wines that define Napa Valley.
Vinification
Harvested in mid-September from vineyards overlooking the Petaluma Gap, the fruit was picked at optimal development. After hand sorting the grapes three times, the grapes were pressed whole cluster, and was then racked to tank and allowed to cold settle for 24-48 hours. The juice was then racked to stainless steel barrels and inoculated with a yeast strain isolated from the Cote de Beaune, France. Following a slow and cool primary fermentation, the chardonnay was then prevented from going through Malolactic fermentation. The lees were stirred regularly and frequently, giving mouth feel and texture to the wine. Prior to bottling the wine was lightly filtered and allowed to rest in tank. It represents a pure expression of the vine-yard and is beautiful to enjoy right away.