Nick Goldschmidt - Yardstick - Ruth's Reach Cabernet Sauvignon
2015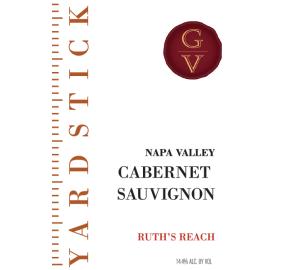 This product is no longer available. Please choose another vintage above.

Activate your account to purchase online, view your detailed history, get tasting notes from over 10 major publications, request our catalogs/POS, and much more!

IMPORTANT NOTE:
Monsieur Touton Selection Ltd. is a wine and spirits distributor, serving industry professionals with valid liquor licenses only. If you do not qualify as such, ask your local liquor store/restaurant to contact us! This item may or may not be available in selected states.
This website is for informational purposes only.
Tasting notes
Focused dark cherry and blackberry aromas are nicely highlighted by clove and nutmeg. Fresh strawberry and zingy cherry flavors dominate with hints of bacon and licorice in the background. Medium-bodied and well-structured; finishes with spice and fine-grained tannins.
Technical data
Vintage: 2015
Release Date: May 2017
Varietal: 100 % Cabernet Sauvignon
Avg Vine Age: 35 years
Clone: Field Selection
Yield: 3.5 tons by hand
pH: 3.75
Total Acidity: .61 g/100ml
Alc %: 14.4%
Aging: 15 months
Barrels: 100% French Oak, 50% new
Fining: Unfined & Unfiltered
Vintage
2015 proved to be another in an epic string of superior quality vintages. Despite a lighter crop, quality is first rate. Drought conditions and higher than average temperatures during the 2014/2015 winter caused the soils to warm up early. Napa received very little rain during bud break and fruit set. Then an unseasonably cool spring ensued, contributing to smaller grape clusters and variable crop size. Harvest came much earlier than usual. Fermentations showed big, rich, ripe fruit in great balance with firm tannins. Not as forward and bold as the 2013's but exhibiting the subtlty and finesse of the 2014's.
Yardstick
A yardstick is an old basis for measurement which can be used as a baseline or reference point. YARDSTICK Ruth's Reach Cabernet Sauvignon is just that: it offers the signature taste of Napa Valley but without the baseline Napa Valley price. The 2015 vintage comes from the mid-valley area with its moderately warm climate Region III classification. The mid-valley is close enough to receive regular morning fog from the San Pablo Bay but far enough north to bask in the warm afternoon Napa Valley sun. Late in the day cool breezes flow north and the cooling cycle repeats, thus preserving the grapes' color and acidity. The soils here are alluvial browns which produce wines with exceptional richness, bright acidity, and fine tannins.