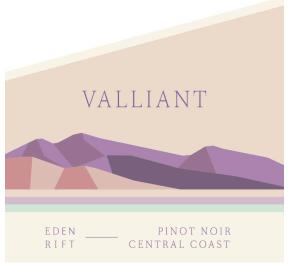 Eden Rift - Valliant Pinot Noir 2018
Log in to view pricing and order online
Don't have an account? Register here
Item# 72559-18
Tasting notes
The Valliant Pinot Noir showcases the bright, fruit-forward nature of Pinot Noir grown along California's Central Coast. The cool, maritime influences of the Pacific Ocean provide the fruit an extended period on the vine whereby the grapes develop increased flavor. In the bouquet, this bottling shows notes of wild berries, spiced cranberry, black cherry as well as purple flowers and vanilla cream. Replete with acidity, the wine shows medium weight with supple tannins and a long, chalky finish.
Estate
Under Vine Since 1849 – Eden Rift is the oldest continuously producing estate vineyard in California. Located just 20 miles from the Monterey Bay, the 120-acre estate rests on the San Andreas Faultline and is part of the Cienega Valley AVA. Early vintners saw potential in the limestone and dolomite-rich soil, planting Pinot Noir on the estate in 1860. Post prohibition, the focus on Pinot Noir & Chardonnay was lost until 2016 when Christian Pillsbury acquired the estate. Christian assembled a team of young industry professionals starting with winemaker Cory Waller to once again create some of California's most vivid energetic Pinot Noir and Chardonnay. The extreme terraces and diverse terroir in a single contiguous valley make California's oldest estate vineyard one of its most exciting new projects.
Vinification
Sourced exclusively from Eden Rift Vineyards in the Gavilan mountains, 20 miles from Monterey Bay, this wine is primarly comprised of "Dijon" clones - 115, 777 & 828. Vinified in separate lots, all the fruit was gently crushed, de-stemmed, and fermented in open-top tanks on native yeasts. Once pressed, the wine was transferred to French oak barrels from assorted coopers. Ultimately, the wine was barrel aged for ten months before being bottled in September.