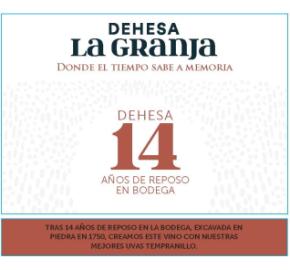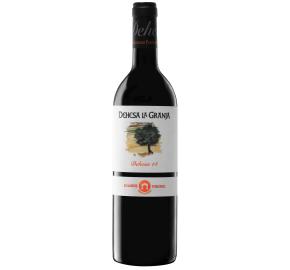 Dehesa la Granja - Dehesa 14 2005
Log in to view pricing and order online
Don't have an account? Register here
Item# 97245-05/6PK
Description
Regarded as one of the most beautiful estates in the province, the hallmark of the wines from Dehesa de la Granja is the 3,000-square metre underground cave built in 1750. Familia Fernández Rivera has dedicated part of this estate to agriculture and livestock farming. The group also sells chickpeas, cheese and oil of the highest quality. In what is known as the wine country of Zamora, Familia Fernández Rivera planted tempranillo vines from Condado de Haza, restoring an ancient winery that it has now modernised and that includes an underground cave, which is over three hundred years old and is where its wines age in a perfect environment.
Tasting notes
Ruby color, with brick-red tones. The nose contains tertiary aromas such as tobacco leaves, cofee and caramel notes. Also fig and leather. A dense palate, it being a wide wine that evolves, presenting a range of tertiary aromas that are characteristic of its long bottle ageing process. Pair with roast lamb and suckling pig, red-meat stews and small game such as pheasant in a plum sauce.
Estate
The Fernández Rivera family has always lived surrounded by vineyards and each member has a deep respect, love and pride for the wine from their native soil, Ribera del Duero. From the moment a young and determined Alejandro Fernández and Esperanza Rivera bought a small winery, the family has been linked to a lifelong passion passed through the generations. Propelled by the conviction that wines of superb quality could once again be made in their hometown, they went against the movement of the time, when cereal and beetroot dominated the landscape, and planted Tempranillo vineyards in Pesquera de Duero. In 1972, in a modest 16th century stone llagar, or ancient wine press, the family began to produce the first Tinto Pesquera wines.
Vineyard
Vineyards located in the southwest of the province of Zamora, on the Dehesa la Granja estate, with a total of 800 hectares of farming land devoted to livestock and various crops, of which 101 hectares are vineyards.
AGE: Average of 25 years.
SOIL: Formed of sediments of sandstone, clays and a mixture of limestones, which on the surface produce chalky soils. Silty and large and fine-grain sandy materials alternate. Vineyard altitude – 700-750m
CLIMATE: Extreme continental climate With annual rainfall of between 300-400mm. Extremely cold winters. It receives a high number of hours of sunlight that give the grape its exceptional quality, which is essential for the production of these great wines.
Vinification
Each year harvest begins towards the middle of September and all vineyard blocks are vinified separately in small stainless steel tanks in order to ensure optimum wine quality. Alcoholic fermentation takes place between 6-10 days at an average temperature of 20-25°C and the finished wine is aged for a minimum of 18 months in fine grain, 225- and 300-liter neutral American oak barrels with a light-to-medium toast. Barrels are racked a minimum of three times during the first twelve months of aging and an additional 2-3 times before bottling. With the Fernández family dedicated to natural winemaking, all wines produced by Alejandro Fernández are neither filtered nor fined before bottling. Unbound by the strict protocols that govern a Denominación de Origen (D.O.) in Spain, Dehesa La Granja may be aged and released any time the winemaker chooses. The 2002 Dehesa 14 is refreshingly fruit-forward for its lengthy aging of 24 months in barrel and close to sixteen years in bottle. We suggest that you decant forty-five minutes before tasting to avoid the sediment typical of a long ageing process.
Vintage
The vintage was characterized by a mild and wet climate, notable for having some of the heaviest rainfall of the last few decades. The favorable weather conditions after the first frosts promoted subsequent sprouting as well as advancing plant development and the ripening of the grapes. The weather conditions during the grape harvest were conducive to the hand harvesting of high-quality grapes from both a plant protection and an analytical point of view. Overall, the vintage provided excellent quality and high yields.