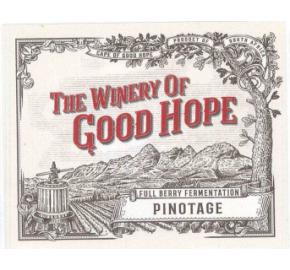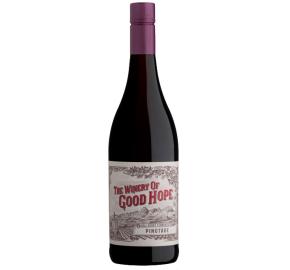 The Winery of Good Hope - Full Berry Pinotage 2019
Log in to view pricing and order online
Don't have an account? Register here
Item# 91105-19
Description
Pinotage is a notoriously difficult grape, so the Winey of Good Hope has been working for the last decade to find ways to work with the vineyards and grapes to bring out the friendlier side of Pinotage. As a crossing of Pinot Noir and Cinsault, it can be produced in a naturally lighter style. In order to bring Pinotage back to its true parentage, they have honed our viticulture and winemaking to respect the more refined genealogy of the grape and producing a more elegant expression.
Tasting notes
This wine displays a refreshing yet juicy palate with black berries, plums, wild black fruits and a wonderful, natural balance. It has a great texture with integrated, supple tannins and some attractive spice on the finish. Incredibly drinkable!
Vineyard
The estate works with two vineyards for this Pinotage, one based in Northern Stellenbosch and the other in Voor Paardeberg, approaching 20 years old respectively. The former on sandy and very heavily decomposed quartz and granite soils, the latter on weathered, granite derived soils.
Vinification
The Winery of Good Hope has developed an approach which they are calling Full Berry Fermentation; de-stemming, keeping the berries fully intact, spontaneous, wild fermentation occurring inside the unbroken skins of the berries, with the effect of minimal skin contact, in turn coaxing-out a gentler, more textural nature.
Estate
The Winery of Good Hope is more than just a winery. It's an approach. An alternative way of thinking, being and doing. Yes, you will find it in the prestigious wine-making region of Stellenbosch, in South Africa's Cape of Good Hope. But they aren't like other wine producers. Why? Because they're not into all the flashy stuff that's often associated with the wine industry. They want to make quality wine with a conscience. At their cellar on the slopes of the Helderberg Mountain, they make great wines using traditional, natural viticultural and winemaking methods. Their also fully accredited for environmental, ethical, and social-upliftment practices. That's why they called themselves The Winery of Good Hope.
Vintage
The effects of the precedented 3 year drought in the Western Cape are still evident and have resulted in smaller than usual crop levels. There was a fairly cool ripening period in December and January, especially during the evenings, resulting in very even and slow ripening. Cool nights promoted deeper color and improved phenolic development.