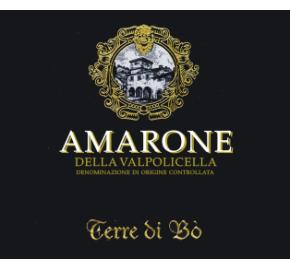 Terre di Bo - Amarone Della Valpolicella 2009
Producer

Terre di Bo

Blend

70% Corvina Veronese
5% Molinara
25% Rondinella

Country

Italy

Region

Veneto

Appellation

Valpolicella

UPC

0 15643 23965 6
Log in to view pricing and order online
Don't have an account? Register here
Item# 82019-09
Food matches
Red meats, tasty and piquant cheeses, like parmesan. Being considered a wine for meditation, it is great after dinner.
Tasting notes
Color: Intense ruby red.
Nose: Intense and ethereal of great refinement and complexity, characteristic.
Palate: Delicate and dry, full bodied and with pleasantly almond aftertaste.
Description
Amarone has been produced in Valpolicella since Roman times. The original name for this wine was "reticum" later changed to "acinaticum" by Cassiodorous, minister of King Theodoric. We continue to find historic references during the following centuries: during the Longobard period, the Middle Ages, the dominion of Scaligers, as well as during the Republic of Venice when the wine was referred to as a "wine of the Doges". The marketing of this wine on a large scale started only during this century.
Harvest and vinification
Production region: the grapes are located high on the hillside terraces of Valpolicella area, Verone.
Harvest: end of September, beginning of October.
Wining: Amarone is the product of the ancient wine-making method called "appassimento" (drying of the grapes). The best bunches of grapes are selected from the hillside vineyards, then placed in wooden boxes or on bamboo racks. The grapes are left to dry for 36 to 48 hours in rooms with controlled atmospheres (controlled humidity and forced ventilation) and then kept in large rooms in the old farmhouses in the hills until about the middle of January. There are large openings or windows to allow the free flow of air which is vital to the drying of the grapes. By January the grapes weigh 35-40% less and have naturally enhanced flavour and a higher concentration of sugar. After a delicate pressing and partial destalking of the grapes, they ferment for about 50 days in large Slavonian oak barrels at low, natural temperatures (natural, cold fermentation).
Maturing and ageing
The wine, transferred into barrels of 30-40 hl continues its alcoholic fermentation for another 3-4 months. Once the wine is completely dry, it continues its aging for another 20 to 30 months, partly in large oak barrels and partly in smaller Allier and Slavonian oak barrels of 600 litres (maximum 3 years old). The wine is then filtered and bottled.