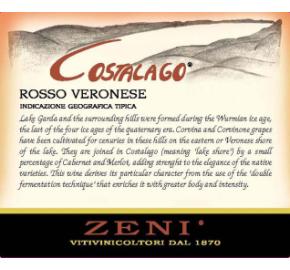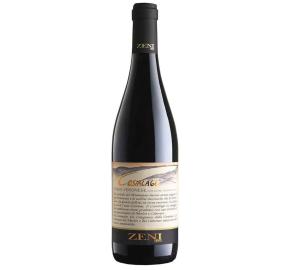 Zeni - Costalago Rosso Veronese 2019
Log in to view pricing and order online
Don't have an account? Register here
Item# 82079-19
Description
The label of this wine underlines the origin of Lake Garda in the Würm ice age with its adjacent morainic hills. These hills form an ideal pedoclimatic environment to cultivate the queen of the Veronese grapes: the Corvina grape.
Nino Zeni, eclectic oenologist and father of Fausto, Elena and Federica, started planting Cabernet Sauvignon and Merlot in the early 90s in some vineyards nearby the lake. An idea came up in his mind to create a new wine as a modern expression of our region, a harmonious blend where the local character and the elegance of the Corvina grape are blended with the international character and the structure of Cabernet Sauvignon and Merlot to give a unique and balanced wine.
Food pairing
Recommended with pasta with sauce, grilled red meat, game, cheese.
Tasting notes
Intense ruby red. Floral notes with hints of well ripened fruit. Vinous, velvety and lingering. Pairs well with pasta with sauce, grilled red meat, game and cheese.
Estate
Zeni Winery is a family-run winery that started its activity far back in the 1870s. The whole Zeni family has been fully and enthusiastically dedicated to the production of premium quality wines for 5 generations, and this is further testified by the grated care devoted to every single stage of the long wine production process from the growing of the vine to the harvest, to vinification, finishing, bottling and marketing of the wines.
Set inside the Winery, the Wine Museum, realized by the owner Gaetano Zeni, was meant to offer evidence of the ancient winemaking culture the Zeni family is committed to for generations.
Harvest
Hand selection of the best grape bunches which are collected in small crates and left to raisin for a while.
Winery Technical Data
Soil: hilly soil of morainic and volcanic origin.
Vine yield per hectare: 100 ql./ha.
Grape varieties: Corvina & Corvinone 70% - Merlot 15% - Cabernet 15%.
Wine analysis: Residual sugar 7 g/l, Dry extract 31g/l, Total acidity 5.80 g/l.
Vinification
Traditional skin fermentation followed by 2-3 weeks maceration in November.