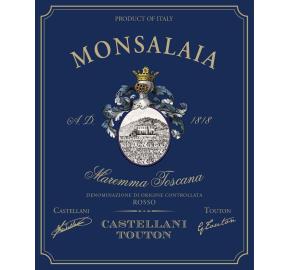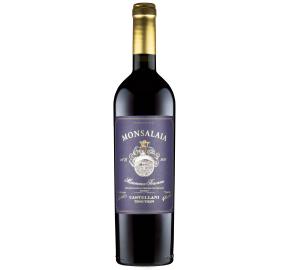 Monsalaia - Maremma Toscana 2019
Producer

Monsalaia

Blend

Cabernet Sauvignon
Merlot
Sangiovese

Country

Italy

Region

Tuscany

Appellation

Maremma Toscana

UPC

0 15643 66599 8
Log in to view pricing and order online
Don't have an account? Register here
Item# 83195W-19
Tasting notes
Maremma DOC is a fast-rising star on the Italian wine scene. Based on the Super Tuscan blend of Sangiovese, Cabernet Sauvignon and Merlot grapes, it sparkles with a freshness of fruit and a lively, dancing character. This red blend from Tuscany opens with aromas of dark-skinned fruit and a whiff of cooking spice. The round easygoing palate shows ripe black fruit and vanilla alongside ripe tannins. Ideal with grilled meats, steaks and game meats. Delicious with food, it's perfect as an everyday drinking wine.
Description
Maremma is Italy's Wild West. The coastline is a landscape of white sandy beaches, umbrella pines, strawberry trees, oak trees and heather that gives way as one drives inland to a classic Tuscan rolling hills covered in olive trees and magnificent vineyards. From this beautiful land we select this range of wines produced from meticulous pruned grapes to get the most concentrated fruit looking for that elusive quality where sun, sand, clay, sea breeze and grape are united into wines of great character from an exceptional place: MAREMMA in Tuscany.
Estate
The Castellani Family produce classic wines in Tuscany since more than 150 years. Every generation continually experiment with their vineyards and cellars in order to select the best Tuscan wines to be bottled under the family brand. Exporters of wine since 1903, the Castellani family have founded their high-quality wines on the belief that "the quality of the wine starts in the vineyard". For the past 25 years, the family has worked hard to refine the soil types and microclimates that enhance their 'great Tuscan vines', investing in research and new technologies to ensure the Castellani name continues to be associated with 'memorable wines'.
A believer in maintaining the balance between nature and the modern world, Piergiorgio and his family reside in the middle of one of his vineyards, which helps influence the personal closeness he feels to the wine his family makes. "I think this is the best way to certify the quality of what you produce; is when you live in the cultivation that you farm," he says. The special conditions, both climatic and cultural, that exist in Tuscany already offer everything a winemaker needs, but that could quickly change if the land they cultivate is not cared for.
It's this 360-degree commitment to the environment that enables Piergiorgio to produce high-quality wines year after year. He renounces using chemical treatments and is continually updating his vineyards to maintain organic and natural farming techniques. This confluence between traditional winemaking practices, modern technological advances, and a deep reverence and appreciation for nature fuels the Castellani family's continued success in producing incredible, robust Italian wines.