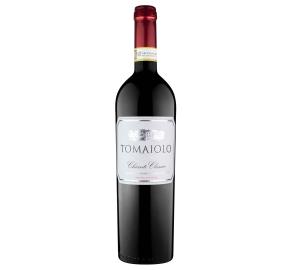 Tomaiolo - Chianti Classico 2019
Log in to view pricing and order online
Don't have an account? Register here
Item# 83057-19
Food pairing
I deal with roasts, grilled red meat and cheese. Serve at room temperature.
Tasting notes
Vivacious ruby red color. Fruity fragrance, hints of violet, cherry and wild red berries. Full-bodied, dry and traditional, it becomes harmonious after at least one year of ageing.
History
The first documents identifying Chianti with a wine production area, are dated back to the 18th century and referred to the Lega del Chianti (League of Chianti) created in Florence to regulate the administrative relationships with the producers of a red Sangiovese based wine. In Radda, Gaiole e Castellina (currently part of the Chianti Classico production area known as the Golden Triangle). The sign of the Lega del Chianti was a black rooster that later became the emblem of the Chianti Classico Consortium
Vinification
This Chianti Classico is produced from specially selected Sangiovese grapes grown in the vineyards of the Chianti Classico appellation, the most ancient Chianti area. Made following traditional vinification methods: completely mature grapes are hand harvested from vineyards. Fermentation at controlled temperatures and prolonged maceration with the skins.