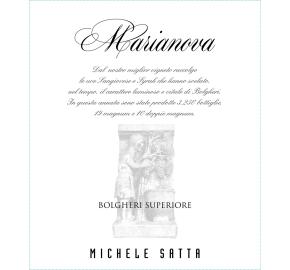 Michele Satta - Superiore Marianova 2017
Log in to view pricing and order online
Don't have an account? Register here
Item# 83519-17/3PK
Tasting notes
Aromas of currants, crushed berries and walnuts, as well as chocolate. Full body, juicy tannins and beautiful fruit at the end. A blend of Sangiovese and Syrah.
Description
"Marianova was born as the first experience of the second generation Satta, a blend in equal parts of the best Syrah and Sangiovese grapes. In the Vignanova vineyard I collect the grapes that have most marked my experience in Bolgheri, assembling an unprecedented blend for this area: Marianova is the first Bolgheri Superiore that does not have any Bordeaux grapes in the blend. Through Syrah and Sangiovese we want to express all the brightness and harmony of this Mediterranean place, which can give wines of very rare depth and complexity, avoiding to rely on concentration and stratification. Vinified in wooden barrels, malolactic fermentation in barriques then refined for 18 months in 750-liter amphorae.
Estate
An important difference between Michele Satta and other big names like Ornellaia or Sassicaia is that the determined and very likeable wine producer in Bolgheri runs the oldest winery that belongs to a winemaker. Satta founded its winery in Castagneto Carducci at a time when grape growing in the Tuscan region was in its infancy and great successes were still to come. The path taken by the innovative winemaker was new in Bolgheri at the time. Thus he, supported by his wife Lucy from the very beginning in his decisions, not only focused on the international varieties Cabernet, Merlot and Syrah, but also on the noble Sangiovese vine.