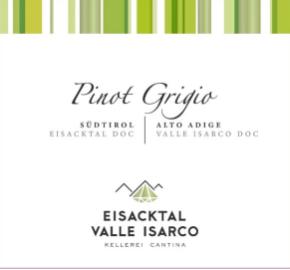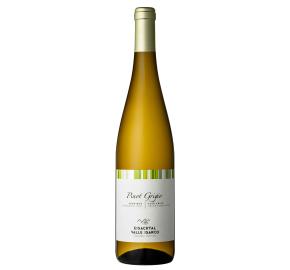 Eisacktaler Kellerei - Cantina Valle Isarco - Pinot Grigio 2021
Log in to view pricing and order online
Don't have an account? Register here
Item# 83188-21
Food pairing
Light appetizers, pasta dishes, mushroom based dishes, poached freshwater fish and shellfish, excellent as an aperitif
Tasting notes
Color: Bright golden yellow
Nose: Elegant, with a subtle bitter almond note
Palate: Full, elegant and harmonious body, well-balanced acidity
Estate
Cantina Valle Isarco is located in the Isarco Valley, the northernmost wine producing area of Alto Adige. The winery incorporates 135 families as grower members and has an exceptional reputation for high quality white wines. The special microclimate of this region, with hot summer days and fresh nights at vintage time, makes sure that the grapes reach maturity with a high sugar content. The light and gravelly soils contain lots of minerals which provide these wines with strong character and incomparable typicality and elegance. This is why the vine-growers of the Valle Isarco have specialized in the cultivation of white grapes, it is the ideal climate for these local grape varieties.
The youngest winery of note in Alto Adige, Cantina Valle Isarco was founded in 1961 at Maso Reinthaler. Unfortunately, the initial winery burnt down in 1962 and was then replaced by a new modern winery in 1975. The 135 members benefit from altitudes ranging from 300m – 1000m, excellent soils and climate for producing expressive wines with wonderful individual varietal character. For the most part, as a result of the steep slopes on which the vineyards lie, picking is almost entirely done by hand.
The Isarco Valley offers one of the most beautiful natural landscapes in Alto Adige, with its majestic mountains dotted by alpine farmhouses, castles, monasteries, villages, magnificent chestnut groves and, above all, terraced vineyards enclosed within neat low stone walls. The people are accustomed to working the predominantly steep mountain slopes, tending their vineyards at heights of up to 950m. It is primarily, this variety that commands respect and keeps alive the valley people's attachment to their unique natural surroundings.
Technical data
GRAPE VARIETY: 100% Pinot Grigio
ALTITUDE 500 - 650 m
POSITION AND SOIL Gravelly, skeleton-rich alluvial soils containing diorite and quartz phyllite
AGEING CAPACITY 3 - 5 years
Alcohol Content 14.0 % vol.
Residual Sugar 2.6 g/l
Acidity 6.8 g/l
Vinification
Delicate processing and crushing, controlled-temperature fermentation and ageing on fine lees in stainless steel tanks, no malolactic fermentation