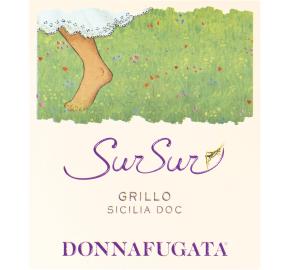 Donnafugata - Sur Sur 2018
Log in to view pricing and order online
Don't have an account? Register here
Item# 83319-18/6PK
Description
Grillo is an ancient autochthonous Sicilian grape variety, but it is also a cute little animal (the cricket) that brings good luck. The name sur sur, that means cricket, comes from the classical Arabic language which was once also spoken in Sicily. The voice of spring, with its scents and colors, is depicted on the label. It shows Gabriella (founder of Donnafugata, with her husband Giacomo) as a girl in flight, running barefoot through the flowers and fresh grass, following the singing of crickets that sounds sweet to her ears, like a thousand "SurSur… ".
Tasting notes
Brilliant straw yellow, on the nose SurSur 2018 offers a fresh bouquet with notes of white fleshed fruit (peach and plum) combined with scents of wildflowers. A soft palate, the fruity notes return combined with pleasant freshness. Pairs perfectly with seafood appetizers, vegetarian first courses and roast fish. Try also with grilled white meats and fresh goat cheese.
Vineyard
The vineyards are located in south-West Sicily on the Contessa Entellina estate and neighboring areas in the hilly region between Marsala and Salemi at altitudes from 200 to 600 m. (656- 1,312 ft). The soils are clay loam with a sub-alkaline reaction (pH 7.5 to 7.9) rich in nutritive elements (potassium, magnesium, calcium, iron, manganese, zinc) and limestone from 20 to 35%.
Vinification
The Grillo for the production of SurSur was harvested during the last part of August. Fermentation takes place in stainless steel, at a temperature of 14-16°C (57-61° F). Aging in tanks for two months and then at least three months in bottle before release.
Estate
Donnafugata Winery is one of Italy's finest wineries and praised by wine critics and wine lovers alike all over the globe. Located in Sicily, Donnafugata has various estates including the historic cellar in Marsala, the beautiful Contessa Entellina country house and vineyards in the western interior of the island, and another winery and estate in the windswept island of Pantelleria off Sicily's southwest coast. The Rallo family who owns Donnafugata have been in the wine business for over a century and the current generation is extremely dynamic and visionary. The Donnafugata brand was born in the early 1980s by Giacomo and Gabriella Rallo in the family's historic cellars and today their children José and Antonio play prominent roles in the company.