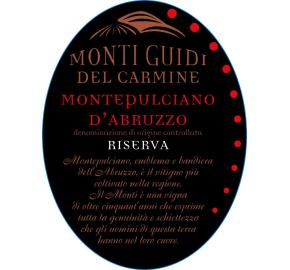 Monti Guidi del Carmine - Riserva 2015
Log in to view pricing and order online
Don't have an account? Register here
Item# 82114-15
Tasting notes
Nose: Full, fruity. Nice scents of small red fruits, blackberries, peonies, eucalyptus, vanilla
Palate: Very intense, complex, full, enveloping the palate
Aftertaste: Persistent, leaving a nice mouth
Food pairing
Roast lamb, red meat and game in particular, strong cheese. An excellent wine for all important dishes of international cuisine
Background
The Montepulciano is, without any doubt, the most cultivated varietal in the Abruzzo region, the part of Italy where you can find the beautiful Adriatic sea shores, the wonderful hills of its central part and the lovely mountains of the famous Parco Nazionale degli Abruzzi with the Gran Sasso d'Italia (a 6.000 feet high mountain). "Monti" Estate, with its 50 year old vineyard of Montepulciano grapes, reflects and is the testimonial of the authenticity and sincere characteristics of the people living in this region.
Vinification
Traditional vinification of reds wines: soft pressing and vinification at controlled temperature of the must. The malolactic fermentation guarantees a particular maturation and fineness. The wine is then placed to age in large oak casks. Refining in bottle for at least 4 months
Description
Montresor means tradition. The love for the wine produced in the Veneto region is the reason why the Montresor Family decided to expand also outside, to one of the most popular regions in Italy: Abruzzo. The Montresor Family carries out this adventure keeping the same imprint of the Montresor brand, of Montresor tradition of the production of their wines. The Estate "Monti Guidi del Carmine" is located on the hills that encircle the old city of Chieti, in the heart of the Abruzzo region: 30 hectares of vines, for the production of Montepulciano, Pecorino and Passerina wines. The Estate has its own cellar for production and bottling of the wines, and also a Bed and Breakfast for receiving guests: a typical building of this area which let people get in touch with the vineyards, the production of the wine and the feeling of what Montresor tradition means.