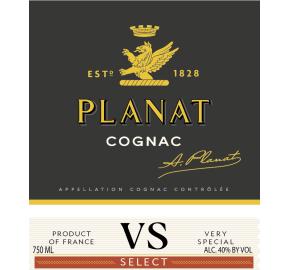 Planat Cognac - VS Select NV
Log in to view pricing and order online
Don't have an account? Register here
Item# 620
Description
It was in 1828, at the age of 27, that Abel Planat founded Cognac Planat & Co. Along with his son Oscar, they committed themselves to serving their community, and left their mark of the region. As a family owned business, the company remains true to these values with enthusiasm and the experience of Planat's beginnings that still inspire them today. The Planat spirit shines through in all of the choices made throughout the long artisanal process of producing their Cognacs. Planat cognacs set themselves apart by their precise blends, ageing techniques and respect for raw materials.
Consumption
Cocktail Recommendation:STINGER
-Glassware: small coupette
-Ice: straight up
-Ingredients: 1.5 oz VS Planat Cognac & 1 oz White mint liqueur
-Method: Combine VS Planat Cognac and mint liqueur in mixing glass, stir and double strain.
-No garnish
Key Facts
A brand that has stood the test of time (founded in 1828)
An exclusive custom-made bottle
A distinctive logo inspired by the original 19th century design
Strong on-shelf impact: each product in the range is clearly identified by its signature colour
Each product comes with its own stylish gift box, offering the perfect choice for any occasion
Excellent value for money
Tasting notes
PLANAT VS SELECT is well balanced with delicate fruity notes. Delicious served neat, on the rocks, or in a variety of classic cocktails.
Color: Rich honey gold color.
Nose: Round and supple with ample fruit and subtle notes of vanilla oak.
Palate: Light and delicate notes of citrus fruit and dried apricots.