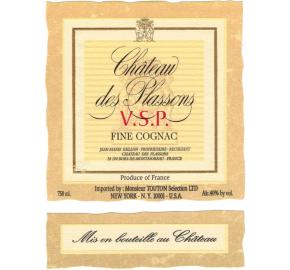 Chateau Des Plassons - Estate Bottled VSP Cognac NV
Log in to view pricing and order online
Don't have an account? Register here
Item# 612
Food pairing
In aperitif with snacks or in cocktail
Tasting notes
A deep, bronzed hue. A subtle and elegant nose that lights the way for an even more impressive palate. The floral quality comes to life in a smooth manner. Highly aromatic.
Technical data
Surface: number of acres 300
Grapes: percentage break 99 % Ugni blanc and 1 % colambard
Maturing: vinification process Natural and traditional fermentation, thanks to a high control of temperatures all along the process
Harvest: manual / automated both
Alcohol Content %: 40%
Serving temperature: Room temperature
Age of vines: 2.5 years old

Description
Situated in the Bons Bois growing area of Cognac, the Cognac house of Chateau des Plassons may not be one of the world's most well-known Cognac brands, but this beautiful chateau has an eminent history that can be traced back to the 1500s. Today, this artisanal Cognac house is run by two young brothers, David and Julien Pannaud, both of whom are passionate about the family tradition of Cognac production. Their eaux-de-vie are sold under both the name of Cognac Chateau des Plassons and a further portion is sold under contract to one of the big four Cognac houses.
History
Five generations of Cognac maker .
Distillery : In the outbuildings of the castle, we lead the stills with a process of a double discontinu distillation in hundred-years-old Alambic charentais made of copper. The duration of the cycle of distillation is of 24 hours.
In the 2 small ( 12 HL volume) 'Alambic Charentais', all the aromas of the wine can release themselves.
A blend of over 10 different "Eaux de vie"from the special area Bon bois and fin bois.
The Chateau des Plassons was built in the 15th century. At this time, the King Francois The first was born in Cognac. From the 15th century to the 17th century the Chateau des Plassons has managed all the vineyards located around the Chateau. At the 18th century, the wines of the Charente Region of France were distilled to send them easier to Great Britain and to the Netherlands : that was Cognac's Birth.