This product is no longer available. Please choose another vintage above.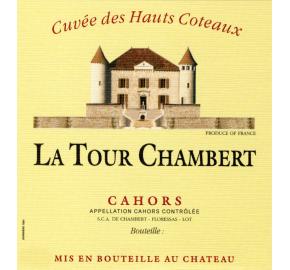 Chateau La Tour Chambert 2012
Producer

Chateau la Tour Chambert

Blend

70% Malbec
30% Merlot

Country

France

Region

SOUTH-WEST

Appellation

Cahors

UPC

0 15643 23627 3
Log in to view pricing and order online
Don't have an account? Register here
Item# 180-12
Food pairing
Perfect as an aperitif or served with red meat or spicy dishes.
Tasting notes
Color: A lively and vibrant purple color.
Nose: Aroma that bursts in blackberries, blueberries, black cherries and violets.
Palate: The palate is fruit forward and finishes beautifully with soft, velvety tannins.
Property and family history
Philippe LEJEUNE, owner of Chateau Chambert, he relies on the talents of this team to execute his vision: continuing the production of Chambert wines which have become famous through the centuries. It is this devotion to wines reflecting the land and possessing a remarkable finesse that have led the vineyard to adopt biodynamics since 2007. Philippe LEJEUNE and his team are helped by Stephane DERENONCOURT of renowned International.
Chateau de Chambert is situated in the town of Floressas on the highest slopes of the Cahors appellation at 300m above sea level. The chateau overlooks Chambert's 120 Ha of limestone hills; of which 65 Ha are vineyards and the remainder a naturist's paradise of meadows, woodlands and forest. The first view of Chambert as you approach the domaine is of a magnificent chateau that boasts strength and pride. The central driveway lined with slender cypress trees and rows of vineyards soothes and tames the demeanor of a building that is so rich in history.
Chambert is:
- A reputation of fine and elegant wines since 1690
- One of the oldest and most prestigious vineyards in Cahors
- Great terroir on high slopes
- 65 Ha of Organic vineyards
- The biggest wine domaine practicing biodynamics in the SW of France.
Chambert is famous for its uncompromising quality, its constant search for excellence and its wines of clear and vibrant style.
Technical data
Soil: Hard, white limestone bed rock scattered with a shallow top soil of chalk-like clay.
Surface: 22 hectares
Maturing: vinification process Minimum of 6 months in stainless concrete tank before bottling
Harvest: Hand sorting. De-stemming and Crushing separation