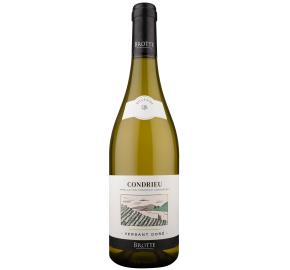 Brotte - Condrieu - Versant Dore 2018
Log in to view pricing and order online
Don't have an account? Register here
Item# 12932-18
Tasting notes
Brotte Condrieu "Versant Doré" (golden hillside) is a tribute to this sunny, steep terroir. Made from 100% Viognier, selected on two parcels, the wine offers a myriad of flavors like summer fruits, nutmeg and vanilla with an elegant, complex finish.
Estate
Located in Châteauneuf-du-Pape since 1931, the Brotte Family are the owner and vintner of three distinct terroirs and family domains in the southern Rhone Valley. Here, Grenache the king, flourishes and expresses all of it's fruit. Their red wines are blended with the addition of Syrah and Mourvedre, adding freshness and structure. Since 2014, their wines carry the TERRA VITIS French environmental label. This is a sustainable agriculture practice certification which ensures respecting nature from the vine to the glass, as well as within the company.
Vineyard
"Versant Doré" (golden hillside) : a tribute to a hilly and sunny terroir. The fruit comes from two parcels of vines across 1.5ha, of which 1ha is planted in steep terraces. The vineyards have a perfect exposition to the south-south-east on one of the most beautiful hillsides of the appellation, known as 'La Roche Coulante'. Our cuvée is the result of a collaboration between our œnologist and Christophe Pichon, whose care, skill and know-how are evident in all aspects of his vineyard, his vines and his wines.
Vinification
Sustainable viticulture. Green harvest to limit the yield. Hand-harvested into small cases and rapid transportation to the winery to avoid oxidation. Gentle pneumatic press. Cold settling of the juice for 12 hours. Alcoholic fermentation for 20 days followed by malolactic fermentation. Vinification and maturation in French oak barrels (new and mature) for 9 months for 35% while the remaining 65% stays in stainless steel vats to retain freshness. Bottling in June the year following the harvest.