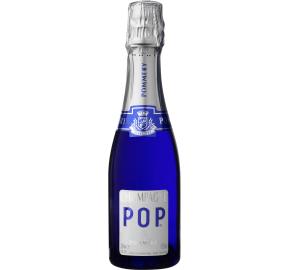 Log in to view pricing and order online
Don't have an account? Register here
Item# 11668B-NV
Tasting notes
POP offers apple, orange and lemon flavors in a clean creamy taste. Standing out from the crowd, this smooth and bubbly bottle is mobile and can be enjoyed anytime and anywhere. Enjoy a glass, or sip from a straw right out of the bottle!
Description
Pommery "POP" stands for Product of Pommery and is a range of Extra Dry Champagne under a slightly lower pressure in 187ml bottles with real corks designed to be drank straight from the bottle or with a straw. Contemporary, unconventional and fun but with the complexity, freshness and quality you would expect from Pommery Champagne.
A blended wine in the best sense of the term, it combines the three Champagne grapes: Pinot Noir, Pinot Meunier and Chardonnay. Pinot Noir is the dominant grape providing roundness and fullness in the mouth. Pinot Meunier adds fruit and structure while a dash of Chardonnay, largely from the Grands Crus and the Reims vineyards, contributes freshness for that final POP.
Estate
Pommery is a historic Champagne house located in Reims. They are the inventor of the Brut style of Champagne which is so popular today. The house was founded in 1858, primarily as a wool trading concern. On the death of her husband in 1860, Louise Pommery began to dedicate the company to Champagne production and it soon became one of the region's largest brands. She purchased 120 Roman-era limestone and chalk caves which formed 12 miles of cellars under the city of Reims which allowed storage of more than 20 million bottles. The brand is known for its freshness and finesse, epitomized by the range-topping Cuvée Louis.