This product is no longer available. Please choose another vintage above.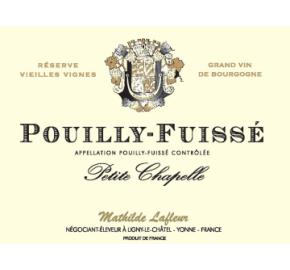 Petite Chapelle - Pouilly Fuisse 2011
Log in to view pricing and order online
Don't have an account? Register here
Item# 10955-11
Food matches
Pouilly Fuisse is recommended with shellfish, oysters but is also a good companion with white meat and Maconnais cheese.
Tasting notes
Pouilly Fuisse is an elegant wine with a very nice gold color. In the nose, there are flavors of grilled almond, nut and white flower. In the mouth, this wine delivers aromas of grilled bread and pain d'epices. It is a very dry and rich wine.
The 2011 vintage
During 2011, we had a very nice weather in March and April but a rainy summer. September was very nice, sunny and hot during the harvest which gave a very mineral and fruity wine of high quality.
Winemaking
The grapes are harvested in the beginning of September. Wine making and breeding is done in thermoregulated stainless tanks during 8 days. All the white wines are spent in the cold.