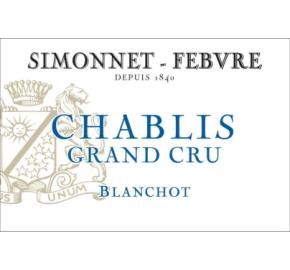 Simonnet-Febvre - Chablis Grand Cru - Blanchot 2017
Log in to view pricing and order online
Don't have an account? Register here
Item# 13574-17
Tasting notes
This wine is floral, delicate and light with a subtle bouquet of ageing roses, undergrowth and meadow mushrooms. The wines from Blanchot always have a lovely combination of aromas. Fresh, powerful and supple, they have a wonderful mineral persistency. Feminine and rich, they develop a bit faster than other Grands Crus. Produced from vines with an average age of 40 years old. Aged 50% in stainless steel tanks and 50% oak barrels for 1-2 years on the fine lees.
Vineyard
The Blanchot Grand Cru vineyard has a South-Easterly exposure on a well ventilated and fresh mountainside which gets nothing but sun in the morning. The brown limestone soils drain well.
Estate
Founded in 1840, Maison Simonnet-Febvre is a traditional Chablis winery and amongst the oldest in the area. Nowadays Simonnet-Febvre produces a wide range of wines expressing the different terroirs of the Chablis and Grand Auxerrois vineyards. The estate's style is asserted with the same conviction throughout the whole range of wines, from the famous Saint-Bris to their outstanding Chablis Grand Cru "Les Clos".
They also carry out the historical legacy of being the only winery in Chablis to produce a range of Crémants de Bourgogne. Owning 15 hectares of vineyards in the Auxois area which is halfway between Chablis and Beaune. Bought by Maison Louis Latour in 2003, the estate is led by Paul Espitalié who managed to inspire a new dynamic while keeping its independence by running it as a separate enterprise with its own house style.