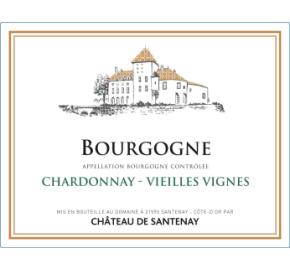 Chateau de Santenay - Bourgogne Chardonnay Vieilles Vignes 2018
Log in to view pricing and order online
Don't have an account? Register here
Item# 13207-18
Description
Matured on fine lees with regular stirring gives this wine amazing body and smooth richness that is so important to its balance. This Chardonnay Vieilles Vignes (old-vines) possesses the cardinal qualities of Burgundy's best white wines. The grapes selected for this wine come from vines on the Cote d'Or that are more than 20 years-old. The predominant white flower and citrus nose leads to notes of honey and dried fruit. The palate is very well balanced, skillfully blending vivacity and roundness.
History
Château de Santenay is one of Burgundy's largest wine domaines. Its prestigious heritage, which comprises a remarkable Château with a glazed tile roof and 90 hectares of vineyards, is the product of a time-old legacy that is closely tied to the history of the Burgundy wine region. This remarkable château, with its varnished tiles, is a spectacular piece of heritage closely tied to the region's history. Its vineyards are split between the Côte d'Or and Côte Chalonnaise. The diversity of its 'climats' results in a rich palette of wines with distinctive styles that reflect the subtleties of the Burgundy varietals.
Tasting notes
Lightly touched by wood aging, this ripe wine is both crisp and rich. Its briskness brings in a mineral edge while the ripeness produces the rich apple and apricot fruits. This full wine is ready to drink. This chardonnay pairs well with rich fish, pasta dishes and cured meats.
Terroir
A mix of largely limestone, light and sandy clays, very draining soil and faulted limestone subsoil allow the vines to sink their roots deeply into the soil and benefit from regular freshness during summer. Vegetative conditions which allow a high quality production on this specific terroir for the production of white wines. The estate is resolutely committed to an environmentally friendly path through a code of good practice. The estate has been Terra Vitis certified since 2004 and HVE3 (High Environmental Values ??level 3). Tillage by plowing, permanent grassing and the removal of herbicides ensure an active biological life of the soils. Leaf stripping and green harvesting allow yields to be controlled and the plant to be in good health through aeration of the bunches.
Vinification
This regional appellation is produced in the town of "Saint-Aubin" renowned for the quality of its white wines. The plot is situated on a hillside, magnificently exposed to the south-southwest, in the immediate vicinity of our Saint-Aubin "En Vesvau". The production of this Hautes Côtes de Beaune is exceptionally qualitative and very widely recognized in the competitions and reviews.