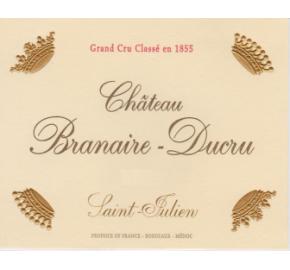 Chateau Branaire-Ducru 2010
Log in to view pricing and order online
Don't have an account? Register here
Item# 1708-10
Tasting notes
On the palate the 2010 vintage shows a great aromatic richness and a beautiful freshness.
The ripe fruit is dense and brilliant. The freshness is omnipresent. In the mouth the concentration of the tannins is impressive, but the elegance is refined. This wine has an outstanding length.
2010 will definitely compete with the 2009 vintage.
To us, it should be the leader of the very high quality 2005, 2003 and 2000 vintages.
Vintage
Ideal weather conditions allowed the production of a high quality 2010 vintage – in the same spirit as 2009. The budburst is relatively late because of the temperatures that are cooler than average in the springtime. As far as temperature is concerned, 2010 is very close to 2009. The summer is warm but not scorching. The hydric stress is early and well settled as the grape closes. It predicts a high concentration of the berries. Despite a noticeable drought, the cool nights allow them vines to recover the humidity that is essential for the photosynthesis.