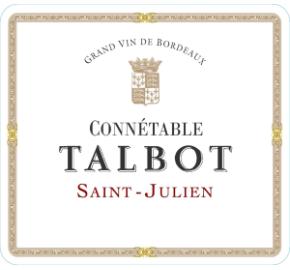 Connetable de Talbot 2015
Log in to view pricing and order online
Don't have an account? Register here
Item# 1563C-15
Tasting notes
Red cherries, white pepper with hints of mint give to this wine a fresh and chewy taste with a lightly toasted hint. The mouth is full and silky with a kind of softness all along the taste which makes this wine very delicate and very approachable already. A second wine is charming and full of pleasure.
History
Legend relates that the name of this imposing estate originates with Connetable Talbot, a famous English warrior, defeated at the battle of Castillon in 1453. Talbot is one of the Medoc's oldest estates, its glory never tainted. Through the years, it has been fortunate enough to remain in good hands. The owners are Nancy BignonCordier and her family. They are the fourth generation of Cordiers to manage this Saint-Julien fourth Classified Growth.
Connetable Talbot appeared in the sixties; it is one of the oldest second wines of the Medoc. Over the years, it has profited from all the care given to the vineyard and the increasingly severe selections.
Vintage
Vintage that nature created thanks to sufficient water supply on the last two years combined with an early dry summer which helped to make a stop on the growth.
July finally victorious with its strength and its zenithal sun, made resistant grapes, with compact bunches after a grouped blooming around June 2nd. The thick skins could accept moderated end summer rainfalls.
The rainy episode from mid-September, on our plowed soils, didn't dilute or break the skins but only helped to bring a good juice to the grapes.
The berries kept the richness of the sugar and phenolic compounds, reminding the 2010. Grapes of anthology!
This year, pressings truly a concentration of good wine, are very opulent and will contribute to the long ageing character of this vintage.
A vintage with terroir expression and precision in the wine profile.
Technical data
Appellation: Saint-Julien, 2nd wine of Chateau Talbot
Surface Area: 105 ha
Soil: Medoc's gravelly soil
Density: 7700 plants/ha
Vines average age: 30 years
Pruning: Medoc Double Guyot pruning
Cultivation: Plowing 4 traditional ways
Harvest: By hand
Sorting: In the vineyard and at the sorting table
Vinification: In wooden vats and stainless steel tanks
Maturing: 15% new barrels
Degree: 13,5 % vol
Harvest 2015: From September 21st to October 8th
Blend 2015: 36 % Cabernet Sauvignon, 64 % Merlot