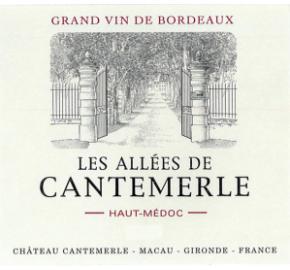 Les Allees De Cantemerle 2012
Log in to view pricing and order online
Don't have an account? Register here
Item# 1598C-12
Tasting notes
The Alleys of Cantemerle assert themselves year after year as the same kind of flexible and elegant Medoc, which can be drunk young. Needless to lock him for years in his cellar: it is in all the freshness of its fruit, that this delicate and dainty wine is best appreciated. In this 2012 vintage, winemaker demanding, but renowned for its fine tannins, low acidity and subtle aromas, this wine has a charm that falls aromas of coffee and wildflowers.
To marry: leg of lamb, sautéed porcini mushrooms, roasted Camembert.
The Cantemerle
In the Middle Ages, the castle Cantemerle was part of the line of fortifications defending the shores of Médoc, about one kilometer from the present castle.
The Cantemerle Castle joined in 1981 landholdings powerful building insurance mutuals and public works (SMABTP), after having been successively property of the families Villeneuve (1576-1892) and Dubos (1892-1980). This rich heritage is reflected both in the singular architecture of the castle in the beautiful park surrounding it. This beautiful set contributes to the romantic charm and magic emanating from this winery.
Vinification
The production of each parcel is vinified separately in large oak vats favoring a slow and gentle extraction of tannins. The wines are then aged in barrels for twelve months and then slightly clarified before bottling at the chateau.