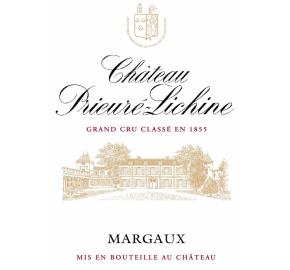 Chateau Prieure-Lichine 2009
Log in to view pricing and order online
Don't have an account? Register here
Item# 1701A-09
Vintage
2009 ... the year of Vision ...
and the tireless efforts of the crew
The 2009 growing season will long be remembered by the new Prieure Lichine technical crew for the severe hailstorm that occurred on May 11th, 2009 around the villages of Cantenac and Labarde - areas where the potential for great wines is very high.
The scenario appeared identical to 2008 but with two weeks' advance.
Fortunately, the rest of the growing season continued without incident. A hot, but never excessively hot summer and a moderate amount of rainfall promised an excellent vintage.
The terroirs that hadn't suffered any hail damage required a light thinning out of the bunches to guarantee a complete ripening of the grapes.
Then September and October bathed us in luxury, presenting us with a period of weather to make 2009 a truly c'hot sunshine" vintage.
With these perfect climatic conditions we began the harvest with the first Merlot on September 25th , and we finished it on 191h October with the last Cabernet Sauvignon fully ripe and in an impeccable condition of health.
The long harvesting period stretching over 25 days enabled us to pick each plot according to its own individual requirements.
Something completely new was introduced in 2009 ...... La Vision.
For a better management of the uneven ripening of the hailaffected plots (the second year in a row) we chose this year to trial the automatic optical-system sorting method, La Vision.
This choice of technology proved decisive in our seanh for optimum quality.
Long vinifications, both in terms of fermentation and maceration, produced opulent, round Merlot in subtle harmony with the Cabernet which brought structure, freshness and well-defined aromas.
The balance that was achieved, despite some amazingly high analysis degrees, promises a great future for this unique vintage.
Harvest
Harvest dates: Merlot : September 25 to October 12, Cab. Sauvignon : 13 to 19 October.
Harvest reception: crop brought to winery in small crates, vibrating sorting table, manual sorting and optical system sorting, no crushing.
Vatting period: 28-30 days.
Yield: 35 hl/ha.
Yield of the 1st wine: 30.5 hl/ha.
Grape varieties: Cab. Sauvignon : 50%, Merlot : 45%, Petit Verdot : 5%