Chateau Saint-Andre Corbin
2015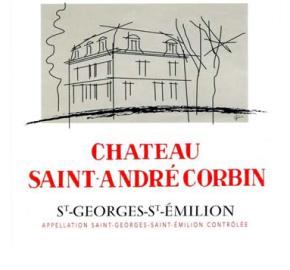 Activate your account to purchase online, view your detailed history, get tasting notes from over 10 major publications, request our catalogs/POS, and much more!

IMPORTANT NOTE:
Monsieur Touton Selection Ltd. is a wine and spirits distributor, serving industry professionals with valid liquor licenses only. If you do not qualify as such, ask your local liquor store/restaurant to contact us! This item may or may not be available in selected states.
This website is for informational purposes only.
Vinification
The Cabernet Franc are original Bordeaux clones that have an av-erage age of 70 years. (Cab Franc clones dating from the 1970's come from the Loire and do not express themselves fully in the terroir of Bordeaux. Most estates are in the process of planting original Bor-deaux clones like those on the St. André Corbin estate.)
19 hectares on plateau and exposed southern facing slopes opposite the village of St. Emilion.
Density of 6,000 vines/hectare. Yield of 46 hl/hectare.
Average vine age of 55 years.
Exceptionally homogenous terroir of clay and limestone over a special limestone subsoil (à astéries) providing excellent drainage during wet periods and good water retention during droughts.
Green harvest of all immature and open grapes to give the most space possible to the best bunches. Only 6-8 clusters are left on each vine.
Winemaking
The Saby brothers combine traditional and modern vinification techniques to extract maximum fruit and concentration from their harvest.
Manual selection at a sorting table.
Exceptional grape maturity with Cabernet Franc attaining 14.9 in alcohol, while retaining good acidic levels.
Vinification in traditional cement vats. Pre-fermentation cold maceration for 3-4 days to extract fruit aromas. Long, slow maceration for 4 1/2 weeks.
Aged 12 months in French oak barrels from 5 different coopers. 1/3 of the barrels are renewed annually.
No filtering or fining.
Estate
Chateau Saint Andre Corbin is located in Bordeaux's smallest appellation just north of the village of Saint Emilion. Both the estate and vineyards date to the Gallo-Roman epoch. Letters from the Roman Consul and poet Ausonius to Rome indicate that wine from this estate was served at Julius Cesar's table in the 4th century. Archaeological evidence suggests that the current chateau is built over the original Ausonius Villa. (The famous Chateau Ausone did not exist prior to the 18th century.) Extensive archaeological excavations at Chateau Saint Andre Corbin have resulted in spectacular discoveries, including an intact Venus, which is in the Museum of Aquitaine in Bordeaux, and an intact Diana, which now resides in the Louvre Museum in Paris. St. Andre Corbin is owned by the dynamic Saby family, who has been making wine on the right bank for 9 generations. Today, brothers Jean-Philippe and Jean-Christophe Saby, both of whom are experienced oenologists and agricultural engineers, own and manage the estate as well s numerous other family-owned