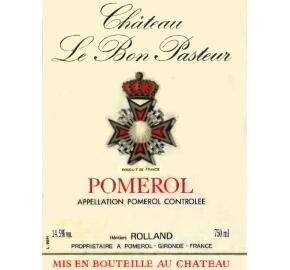 Chateau Le Bon Pasteur 2009
Log in to view pricing and order online
Don't have an account? Register here
Item# 1754-09
The wine
Excellent fruits, great density, silky tannins and beautiful, great aging potential, a long and powerful finish.
This is the archetype of the great vintage, thank you Mother Nature who only allows us to reach the top.
Vintage
The beginning of the vintage was a bit challenging: temperatures were about the seasonal average, much more rainfall than usual, flowering in such weather conditions were not ideal, a rather strong mildew pressure was present.
The climate then changed, a week of good weather arrived, sunny but not very warm and the vine began to grow, to bloom. This is a much better result that we would have thought. We entered a period of sunlight, heat, in which everything was there but not too much: the vine loves such conditions. Fruit set was made very well, everything went quickly, with this July, we were sure we were in summer. Then veraison took place at the last week of July. As the old saying 'August makes the must and it is so true based on our analytical results from early September. On September 14, a few Merlots were picked, then came a rainy weekend that could frighten everybody: from 30 to 80/90 mm fell very quickly, with little impact since the water has not penetrated deep in the soils. However the rain allowed the plots suffering from drought to regain vigor, what enabled the vine to fully mature fine grapes. After these rains, the weather returned to good condition. A high level of sugar was reached very early in September and did not move, while every day the taste of the skins was changing. Thanks to this great weather condition, everyone could harvest "a la carte" by picking each plot at its best maturity without any rush. What a luxury!