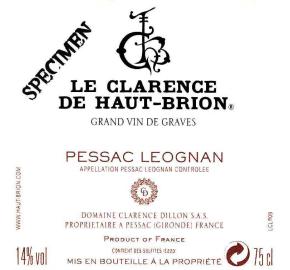 Le Clarence de Haut-Brion 2015
Log in to view pricing and order online
Don't have an account? Register here
Item# 11351-15
Tasting notes
The second wine, which used to be called Bahans Haut-Brion, is now Le Clarence Haut-Brion. The 2009 is a 7,000-case cuvee made of 46% Merlot, 39% Cabernet Sauvignon, and the rest Cabernet Franc and a tiny dosage of Petit Verdot. The wine has a fabulous nose of incense, burning embers, forest floor, and black cherry liqueur. Fleshy, rich, full-bodied, but not over the top as the minerality and structure move in, this is a super-duper effort, and the greatest second wine made at Haut-Brion since the 1989 Bahans Haut-Brion. It should drink well for 20-25 years. (Tasted once.)
Vintage
Winegrowers are cautious by nature. However, this year, we are throwing this legendary caution to the wind to announce the birth of a beautiful and very great vintage. The newborn is so magnificent and full of promise that it is difficult to contain our enthusiasm. We will not beat about the bush: 2009 is extraordinary, undoubtedly worthy of a place of honor in the Hall of Fame along with the legendary 1929, 1947, 1949, 1959, 1961,1982, 1989, 1990, 2000, and 2005 vintages.
Weather
Temperature sum : 3 455°C.
Rainfall : 388 mm.
Number of days over 30°C : 22.
Harvesting began : August 31st – October 6th.