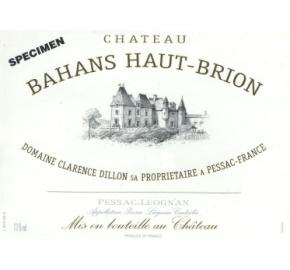 Log in to view pricing and order online
Don't have an account? Register here
Item# 10053-03
Since the 2007 vintage, in connection with the 75-year anniversary of Dillon family ownership, the red second wine Château Bahans Haut-Brion has been released under the new name Le Clarence de Haut-Brion.

by Monsieur Touton Selection, 2012.
Tasting notes
The first impression is dominated by the very complex aromas combining those of the soil with red berries. In the mouth one discovers a composition of tannins at the same time firm and soft. This is a balanced wine and without a doubt one of the best Bahans of the recent years.
Vintage
2003 was without a doubt a very exceptional year in terms of the weather. Although it did not beat the record for lowest rainfall, attained in 1961 (258 mm) for the period April to September inclusive, 2003 comes immediately afterwards with 263 mm. The hundred-year average is 410 mm and in the wettest year; in 1992, 697 mm of rain fell. However, in terms of temperature, all the records were broken. Accumulated average daily temperatures for the above period were around 3,161, with the hottest year (1997) until then reaching 3,494, but for 2003 the figure was 3,696; while the average for very hot days above 30°C/86°F is 16, there were 49 in 2003, more than three times as many!
Weather
Sum of temperatures : 3696 °C.
Rain : 263 mm.
Days where temperature above 30 °C : 49.
Harvest : from 19th August to 15th August 2003.
Vintage:

2016

Size:

0.75

SKU:

10023-16