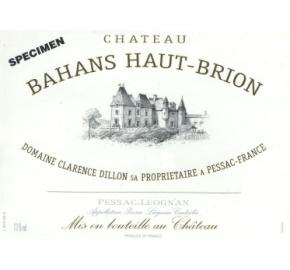 Since the 2007 vintage, in connection with the 75-year anniversary of Dillon family ownership, the red second wine Château Bahans Haut-Brion has been released under the new name Le Clarence de Haut-Brion.

by Monsieur Touton Selection, 2012.

Activate your account to purchase online, view your detailed history, get tasting notes from over 10 major publications, request our catalogs/POS, and much more!

IMPORTANT NOTE:
Monsieur Touton Selection Ltd. is a wine and spirits distributor, serving industry professionals with valid liquor licenses only. If you do not qualify as such, ask your local liquor store/restaurant to contact us! This item may or may not be available in selected states.
This website is for informational purposes only.
Vintage notes
Very rainy month of April. This characteristic proved remarkably useful as the month of May was dry, June normal, July normal largely due to two days of storms with very heavy rain. August was one of the driest on record and in September the downpours only began after September 25th.
Tasting notes
Very lovely, rich and deep color. A smoky character, emblematic of the Haut-Brion terroir, shapes the first olfactory impression. Depending on the taster's sensitivities, the wine may reveal burnt aromas as well as notes of roasted coffee, ripe fruit, prune, ripe banana, tobacco, caramel or licorice. We thus find a level of aromatic complexity perhaps unexpected in this second-label wine of Chateau Haut-Brion. It shares all of the top wine's elegance and raciness. The terroir's personality is highly evident in this wine, with exceptional balance and firm tannins that are both supple and ripe at the finish. Lovely structure on the palate. It is the perfect example of what a second-label wine of a first growth should be like; put simply, its presents all the qualities of the estate's top wine on a reduced scale.
Weather conditions
Sum of temperatures: 3354 °C.
Rain: 537 mm.
Days where temperature above 30 °C: 22.
Harvest: from 15 September to 30 September 1998.
Vintage:

2017

Size:

0.75

SKU:

97001-17