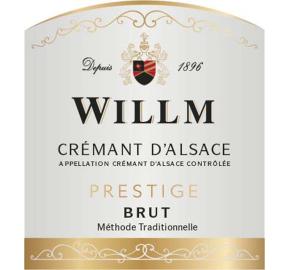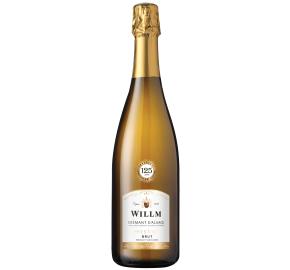 Alsace Willm - Brut Prestige NV
Log in to view pricing and order online
Don't have an account? Register here
Item# 26004
Winery Technical Data
Special selected vineyards, old vines and the harmony between the different varietals make this sparkler to our Prestige Crémant. Extended maturing allows the complexity and delicacy of the aromas to be full expressed. A personalized bottle has been designed for this high quality sparkler for the very special moments in life.
Always made from the varietals classed AOC Crémant d'Alsace, the Crémant grapes are harvested before the other grapes in order to take advantage of their best balance and harmony. Produced according to the methode traditionnelle, Alsace Crémants are racked in a nearly inverted position where they age patiently. Then, after 12 months minimum, they are riddled or turned so that the sediment collects in the neck of the bottles, awaiting disgorgement.
Pale yellow golden, nice brilliance and clean. Delicate and regular mousse. Ripe fruit and good intensity on the nose. Rich, fruity and complete. Great length. Aperitif or dessert.
Alcohol : 12.23% vol.
Residual Sugar : 7.5 g/l
Total Acidity: H2SO4 : 4.1 g/l
Estate
In 1896 the Willm family founded the Willm Estate in Barr, at the foot of the majestic Kirchberg de Barr Grand Cru vineyard. Willm has always been concerned with revealing the best of its terroirs and sharing its exceptional wines with the whole world. Thanks to the adventurous founder Emile WILLM, the estate's wines were the first from Alsace to be exported to the United States in the early 1930s, after prohibition laws were lifted. Their wines are celebrated for their blend freshness, minerality and elegance; they are synonymous with tradition, terroir, purity and refinement.
Tasting notes
A rather subdued nose leads onto a fresh, faintly citrus-scented palate. The bubbles fizz freshly: while there is balance and some bready notes, the fruit seems rather subdued. This is restrained but has a beautiful dry finish.
Vineyard
The Willm vineyard is located in the Barr region of northern Alsace at an altitude of 200-400 meters, extending from the mountainous base of the Vosges to the plains of Alsace and the Rhine. Bordered by the Vosges Mountains to the west, the Barr hillsides benefit from a dry and sunny microclimate thanks to their south-southeast exposure, optimal for cultivating the vines. The fluctuation between warm days and cool nights in autumn is conducive to a slow, prolonged grape maturation.
Our diverse soils are a product of the region's diverse landscape. The mountainous Vosges make way for smaller hills which stretch into various flatlands—just a few of about a dozen geological formations that comprise our region's landscape. The vineyard itself consists primarily of granite and clay-limestone soils, while the coastal marine environment contributes to the terroir's mineral-rich quality.