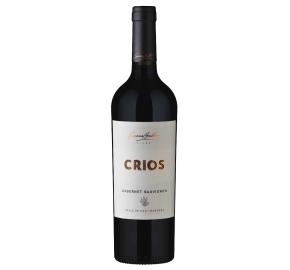 Crios - Cabernet Sauvignon 2018
Log in to view pricing and order online
Don't have an account? Register here
Item# 99168-18
Tasting notes
A premium Cabernet Sauvignon in the unproven terroir of Argentina, it's message is 'Trust in yourself'. This variety is an elegant Cabernet that took the world's attention, laced with notes of plum, dark chocolate, and vanilla spice. Great with grilled and roasted meats, empanadas and chili. Produced from 100% Cabernet Sauvignon that was aged 9 months in 100% French oak.
Estate
Crios is a family-owned brand by Susana Balbo, Argentina's leading and most innovative winemaker. Crios in Spanish means "offspring" and was created by Susana as a tribute to her son, Jose´, and daughter, Ana. Nowadays, Susana's children have joined the family business and add their young-adult point of view to the wines that are dedicated to their family bond.
Crios wines are harvested from specific areas in Mendoza and Salta in Argentina, where grapes are optimal for the fruit-forward style of Crios. Contrary to many entry level brands, Crios wines have a background, a story behind. Each wine carries an inspirational message that also represents either a milestone in Susana's personal and professional life or the story about how the wine was made. Crios is also the perfect pairing at any meal!