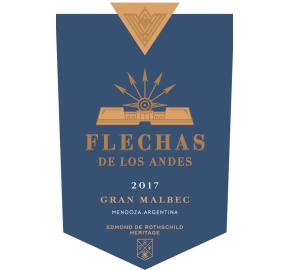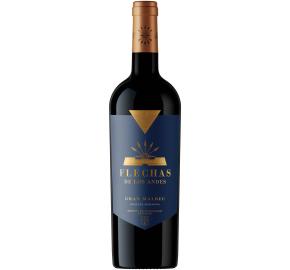 Flechas De Los Andes - Gran Malbec 2017
Log in to view pricing and order online
Don't have an account? Register here
Item# 99030-17
Description
Flechas de los Andes was born from the partnership between Baron Benjamin de Rothschild and Laurent Dassault, as the result of their research of a great terroir at the foot of the Andes in the Mendoza region. Each harvest is handpicked, hand selected, and then fermented with high quality requirements in the most modern equipment.
The name "Flechas de los Andes" or "Andes arrows" refers to the 5 arrows, symbol of the Rothschild family (symbolizing the five brothers at the origin of this dynasty of entrepreneurs). At the foot of the Andes, 120 km south of Mendoza, the Malbec variety rules as the king of this unique terroir. This wine "Gran Malbec " was created to achieve a Malbec of high range, faithful representative of the both families Rothschild and Dassault are aiming to produce a great Argentinian Malbec.
Tasting notes
This ripe and bold Malbec has some serious muscle to it, not to mention a good deal going on with the wine. Dark berries, some tar & a hint of the oak frame, this is a smooth and silky wine. Lovely floral lift with intense, smooth, chocolatey black fruit. Especially flavorful with rack of lamb or full-flavored chicken and veal.
Technical data
Location: Vista Flores, Valle de Uco, Mendoza
Soil type: Granite stones. sand and gravel from the Andes
Blend: 100% Malbec
Plantation density- Yield: 5 500 vines/ha
Vineyard: Sustainable precision viticulture. Vines are managed in Guyot with drip irrigation.
Harvest: Grapes are handpicking during April then in the cellar we realize a selection of berries before and after destemming. Winemaking Filling of the grapes into tanks by gravity. Traditional vinification with pumping over in stainless tanks.
Ageing: Spontaneous Malolactic fermentation into new French oak barrels and tanks. 1/3 in new French oak barrels. 113 in second fill barrels, 113 in tanks.