Purple Hands - Pinot Noir - Latchkey Vineyard
2015
RED WINE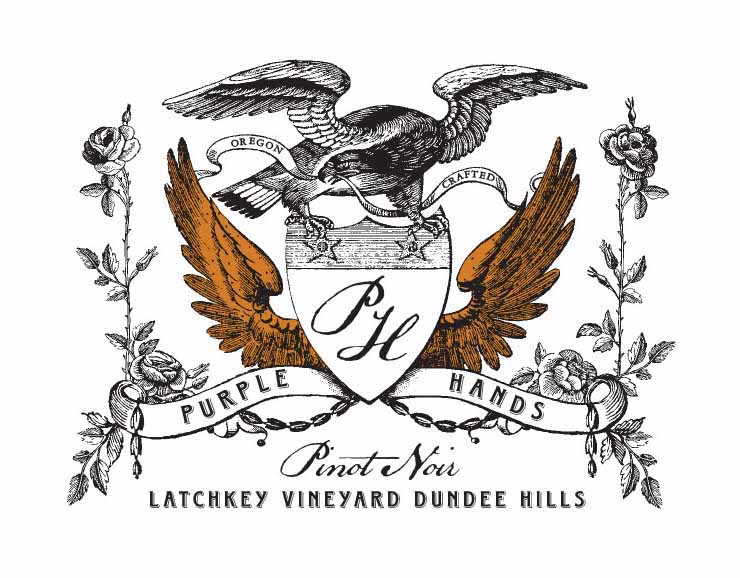 Producer Purple Hands Wine
Blend 100% Pinot Noir
Country USA
Region Oregon
Appellation Dundee Hills
UPC 0 15643 42159 4
Reviews
Wine Enthusiast 90
This is all Pommard clone, with a tart racy mix of cranberry and raspberry fruit. It's juicy and young, with sharp, precise edges. Tannins remain slightly bitter, but a couple more years in bottle should fix that.
by PG, Wine Enthusiast , 2017
Wine Spectator 94
Silky and harmonious, with an elegantly precise structure and black cherry, fresh violet and spice notes that glide expressively toward the long finish.
by TF, Wine Spectator , 2017
Technical Details
Ageing
12 Months in Barrel
70% Neutral Oak
30% New Oak
Fermentation
Native Fermentation
Small Open Top Fermenters
Hand Plunged and Macerated
Unfined & Unfiltered
Tasting notes
Black candied spice, cardamom, red cherry, barnyard sweat, white chocolate raspberry, savory, and a focused dense finish.
Vintage
2015, a vintage full of beautiful weather and wonderful warm nights, brought a second consecutive spectacular growing season to Oregon. 2015 as one of the largest fruit yielding vintages on record, tied with 2009. The perfect weather during bloom and flower set the vines to dense berry and cluster size. Density of the clusters averaged 200 grams at harvest. As the rain came in late October, harvest was well over and wineries were concluding fermentation. The key to Purple Hands Winery's outstanding flavors and balanced wines was timing the harvest before temperatures soared and all acid was lost.