Roth Estate - Heritage Blend
2016
RED WINE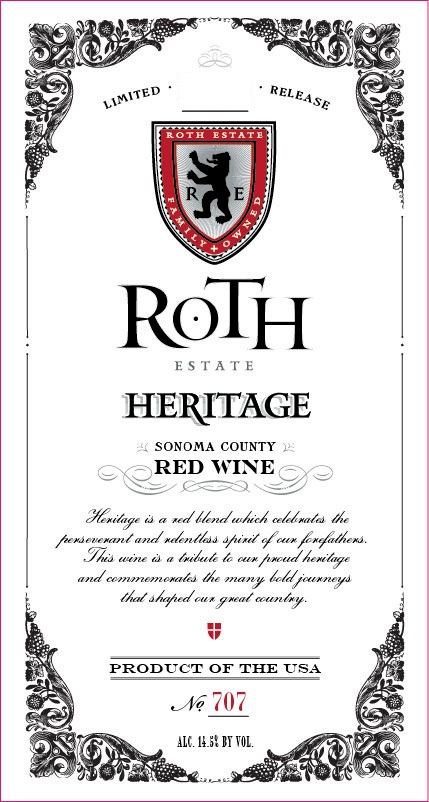 Blend 19% Cabernet Sauvignon
30% Malbec
13% Petite Sirah
7% Petite Verdot
18% Syrah
13% Zinfandel
Country USA
Region California
Appellation Sonoma County
UPC 0 15643 41094 9
Technical Details
Tasting notes
Roth Heritage is rich and complex with a deep ruby hue. Concentrated aromas of black cherry, violet and vanilla open to an inviting mouthfeel. The wine's palate is bold, layered and silky with black fruit notes balanced by an impressive tannin structure. e nish is long and lively with sweet oak and vanilla nuances.
Vintage
2015 made for an excellent vintage in Sonoma County! An early start to the growing season was followed by warm temperatures. Consistently sunny days throughout the spring and summer resulted in even ripening of the fruit. e grapes from this vintage were of high quality with a nice acidity. e fruit was harvested at optimal maturity from September 19th to October 14th, 2015.
Technical data
51% Syrah, 18% Petite Sirah, 12% Zinfandel, 11% Merlot, 4% Cabernet
Sauvignon, 3% Malbec, 1% Petit Verdot
Aged in French, Hungarian and American oak for 16 months, 30% new
Alcohol by Volume: 15.9%
Titratable Acidity: 0.68g/100mL
pH: 3.69
Description
The 2015 Heritage Red is a bold blend of some of our favorite regions throughout the south-eastern parts of Sonoma County. Deep, dark and purple in color, it draws you in with layered fruit-forward aromas of dark berries, chocolate and sweet oak. It has soft, balanced tannins with a silky mouthfeel that lead into rich avors of raspberry, blueberry, cherry, cassis, dark chocolate, and hints of clove spice and peppercorn.