Eguren Ugarte - Reserva
2013
RED WINE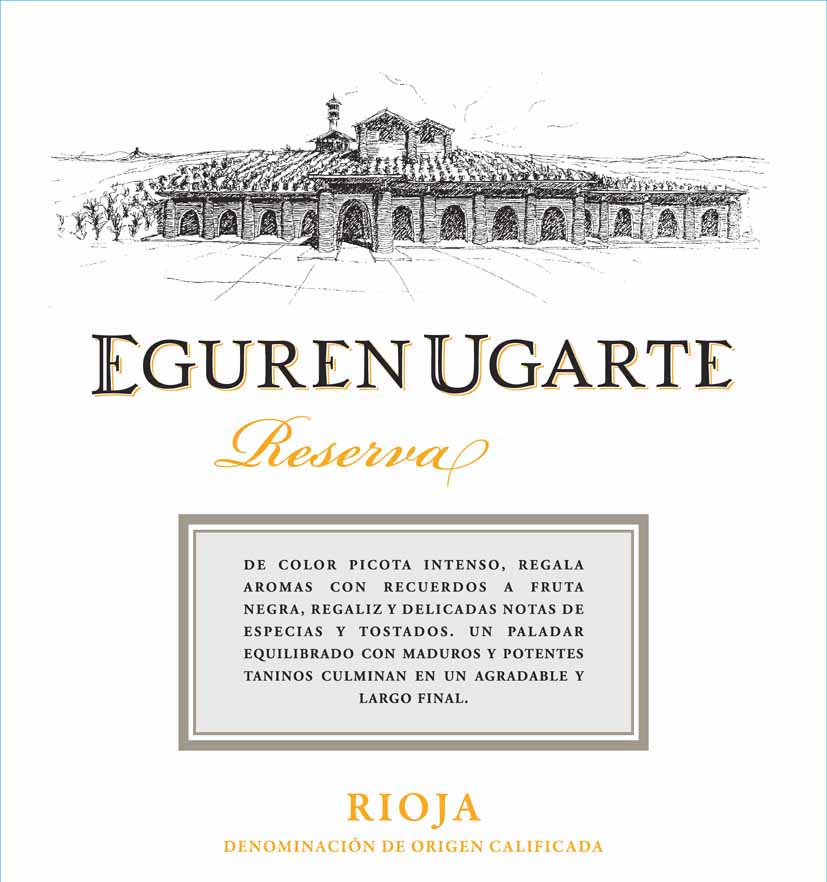 Producer Eguren Ugarte
Blend 5% Graciano
95% Tempranillo
Country Spain
Region Rioja
UPC 0 15643 42308 6
Reviews
James Suckling 92
Dark cherries, licorice, cedar, sandalwood, tar and vanilla. Velvety with very pointed tannins that caress and coat the palate in layers of plush dark fruit.
by JS, James Suckling , 2019
PeninGuide 90
Aroma: red berry notes, ripe fruit, tobacco, waxy notes.
Boca: balanced, balsamic.
Spicy.
by PN, PeninGuide , 2020
Technical Details
Winery Technical Data
Vineyards:
Name: Las Mangadas, Mondiate.
Year of planting: 1965.
Kilograms/hectare: 4.500. Analysis:
Total Acidity: 5.4.
Free Sulfurous Acid: 22.
UV Index: 51.
Volatile Acidity: 0.6.
Residual Sugar: 1.2.
Colour Intensity: 7.3.
Malic Acid: 0.08.
Tasting notes
Color: Underdeveloped hue of red fruit.
Nose: Broad range of aromas and especially excellent integration of the barrel with a very expressive fruit.
Palate: A particularly well-balanced wine with mature, powerful tannin.
Vinification
Alcoholic Fermentation: 6 days.
Maceration: 18 days.
Maximum Temp.: 29°C
Over pumpings: 3/ day.
Malolactic Fermentation: In vat.
Ageing
Barrel: 20 months.
Rackings: 4.
Bottle: 22 months.